Syria
Syrian forces advance on southern Aleppo, retake armament academy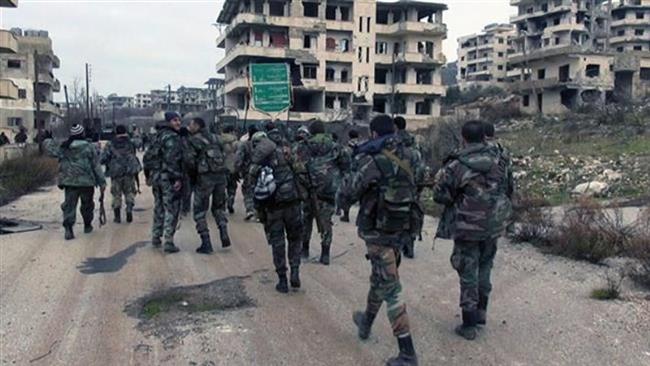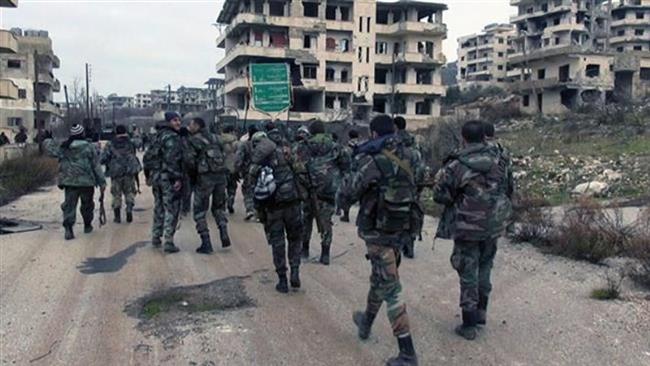 Syrian government forces are advancing further on Aleppo amid an offensive to gain control over parts of the northwestern city that are held by Takfiri terrorists.
Syria's official news agency, SANA, said on Sunday that the government troops backed by volunteer fighters captured Aleppo's armament academy in the south of the city.
SANA said the army has total control of the academy and it has also "expanded its control in the area of military academies to the south of Aleppo city."
A Syrian military source confirmed that the government troops had already recaptured the air force academy and terrorists were "besieged in the artillery academy."
In Aleppo countryside, the source added, the Syrian air force conducted a series of airstrikes against the hideouts of Jaish al-Fatah terrorists.
The so-called Syrian Observatory for Human Rights also confirmed the capture of the armament academy.
Rami Abdel Rahman, the director of the group, said it was now likely that the government forces "easily take Ramussa, a suburb south of Aleppo."
Terrorist shelling kills 2 women on Aleppo suburbs
Separately, at least two women lost their lives in rocket attacks by militants on the towns of Nubul and al-Zahraa northwest of Aleppo.
SANA quoted an unnamed source at Aleppo Police Command as saying on Sunday that terrorists positioned in Byanoun town fired rocket shells on Nubul and al-Zahraa, claiming the lives of two women and injuring 8 other civilians.
The source added that the terrorist attacks caused material damage to several houses and to the private and public properties.
Aleppo has been divided between government forces in the west and the Takfiri terrorists in the east over the past few years.
The Syrian army has vowed to press ahead with its counter-terror operations and drive terrorists out of their major positions.
The Takfiri militants operating in Syria have suffered major setbacks over the past few months as the Syrian army has managed to liberate more areas.