Middle East
Syria
Syrian Forces Arrest Dozens of Terrorists in Aleppo, Destroy Cars Equipped with Machineguns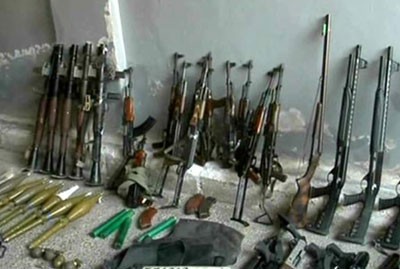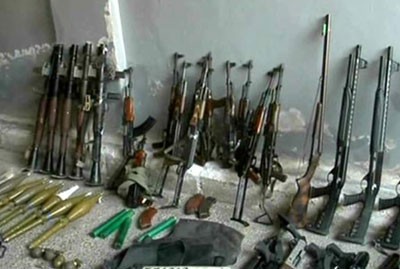 The authorities on Tuesday arrested dozens of terrorists near Souq al-Hal area in Aleppo. The authorities also destroyed 7 cars equipped with DShK machineguns with the terrorists inside them in al-Bab area in Aleppo.
In the same context, units of the Syrian armed forces pursued an armed terrorist group in the areas of al-Kura al-Ardiya, the Radio and Saif al-Dawleh in Aleppo, killing and injuring a number of terrorists.
In Kafar Hamra, a group of armed terrorist was killed during an attempt to enter the city of Aleppo, and their vehicle, equipped with DShK machinegun, was destroyed.
Armed forces units cleared the area of the Science Faculty in Aleppo from terrorist and confronted a terrorist group that attempted to attack the Traffic Department, killing a large number of terrorists.
Another armed forces unit clashed with terrorists who were using Abdelrahman al-Dakhel school in Bustan al-Qaser neighborhood in Aleppo as a hideout, eliminating a large number of them.
In Aleppo countryside, armed forces units carried out two operations against terrorist groups in al-Atareb area, destroying two cars equipped with DShK machineguns and killing large numbers of terrorists.
Assistant Director of Health Directorate in Daraa Assassinated
In Daraa, an armed terrorist group on Tuesday assassinated doctor Ma'moun al-Zoubi, Assistant Director of the Health Directorate in the city.
SANA reporter quoted a source in the province as saying that a number of terrorists waited for Dr. al-Zoubi while leaving the Directorate at the garage and opened fire on him causing his martyrdom.
The source added that the martyr's car was stolen by the terrorists.
Security Forces Continue Pursuing Terrorists in al-Tal, Damascus Countryside
The security forces continue pursuing terrorists in the town of al-Tal in Damascus Countryside, arresting a number of them and confiscating their weapons and killing others.
Authorities Clash with Terrorists in Daraa Countryside

While canvassing the area of Tafs in Daraa countryside, the authorities clashed with terrorists, killing a large number of them and arresting others.
Among the terrorists who were killed were Maamoun al-Manbesh, Mohammad Mousa al-Ghanem, Mohammad Kiwan, Mohammad Barakat, Mohammad Horani, Ziyad al-Hourani, and Salim Ouaymer.
In the town of al-Hara in Daraa countryside, security forces clashed with a terrorist group and killed a number of its members, including the group's leader Barakat Nayef al-Barakat.
The armed forces also continued to pursue terrorists in the areas of Izra'a and Ghabagheb in Daraa countryside.
Infiltration Attempt from Jordan Thwarted
Border patrols managed to thwart an infiltration attempt by terrorists who were trying to cross into Syria from Jordan in Tal Shihab area. A large number of terrorist were killed in the ensuing clash, one of whom was Attaf Abdelrazzaq al-Masalmeh.
Authorities Raid Terrorist Hideout in al-Qseir, Homs
The authorities raided a hideout used by a terrorist group among the farms in Tal Dosar area in al-Qseir countryside, Homs Province.
The ensuing clash resulted in the killing of a number of terrorists, including the group's leader who is known as Abu al-Hareth, and some of the terrorists were injured.
At al-Adra bridge near Rableh in al-Qseir countryside, the authorities ambushed a group of four terrorists who were using a pickup truck equipped with a DShK machinegun, destroying the car along with those inside it.
Also in al-Qseir countryside, the authorities took out a sniper who was attacking passersby and cars on one of the roads of Blada al-Zira'a.