Middle East
Syria
Syrian government forces repel militant attack in Idlib
Syrian government forces have managed to secure more victories in battles against Takfiri militants in the northwestern province of Idlib.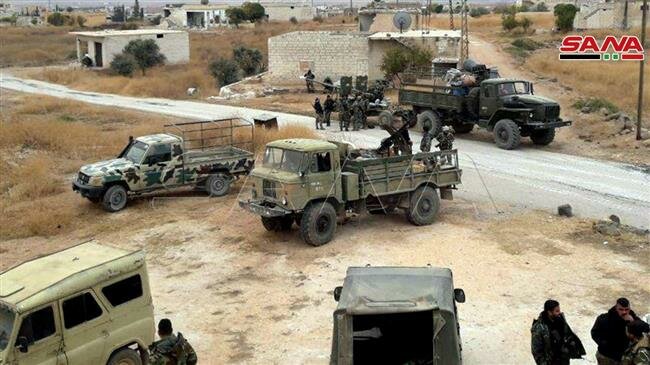 Syria's official news agency SANA reported that Takfiri terrorists unleashed an attack with a large number of armed men and booby-trapped vehicles on the village of Kfaria on Sunday.
The army launched a counteroffensive, inflicting heavy losses on the enemy.
Syrian forces, Takfiri militants exchange heavy fire as army advances in IdlibGovernment forces and Takfiri terrorists engaged in fierce clashes in the northwestern province.
Militants also attempted to enter the village of Ejaz in Maarrat al-Nu'man district of Idlib. But a heavy exchange of gunfire with the Syrian forces led to the retreat of the militants.
On Saturday, Syrian troops successfully foiled an offensive by members of the Jabhat Fateh al-Sham, formerly known as al-Nusra Front, on the same village.
Syrian army troops clear more villages of Takfiri terrorists in IdlibSyrian government forces establish control over more areas in the northwestern province of Idlib.
On August 5, the Syrian army declared in a statement the start of an offensive against militants in Idlib after those positioned in the de-escalation zone failed to honor a ceasefire brokered by Russia and Turkey and continued to target civilian neighborhoods.
"Even though the Syrian Arab Army declared a ceasefire in the de-escalation zone of Idlib on August 1, armed terrorist groups, backed by Turkey, refused to abide by the ceasefire and launched many attacks on civilians in surrounding areas," SANA cited a statement released by the General Command of the Armed Forces.
Russia, Turkey agree to create buffer zone in SyriaThe deal was hammered out after lengthy talks between the Russian and Turkish leaders in the Black Sea resort of Sochi.
The National Front for the Liberation of Syria is the main Turkish-backed militant alliance in Idlib region, but the Takfiri Hayat Tahrir al-Sham (HTS) terrorist group, which is a coalition of different factions of terror outfits largely composed of Jabhat Fateh al-Sham, holds a large part of the province and the zone.
The HTS, which is said to be in control of some 60 percent of Idlib, has yet to announce its stance on the buffer zone deal.
Also on Sunday, Syrian army soldiers consolidated their positions along the highway linking Idlib to the northeastern city of Hasakah.
Units of government forces also established control over the villages of al-Sousse al-Gharbia, al-Souifah and al-Nojoudiyah as well as al-Aaliah grain silos in the northwestern countryside of Hasakah.