Syria
Syrian Grand Mufti Hassoun: Syria fights for its firm stances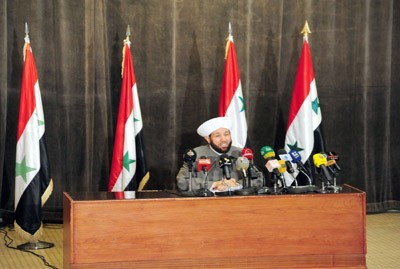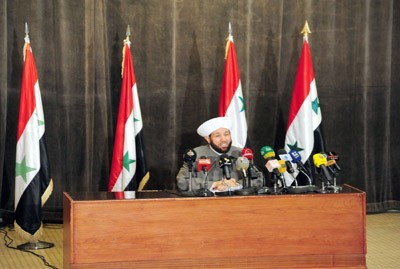 Syria is fighting for its unswerving stance, and was punished for it kept Lebanon undivided and declined to take part in the invasion of Iraq, Grand Mufti of the Republic, Dr. Ahmad Badreddin Hassoun said.
During an open meeting with the national media cadres at al-Assad Library in Damascus on Sunday, attended by Information Minister Omran al-Zoubi, Hassoun said "Islam is universal and our nationalism has a humanitarian message."
The mufti called on the Syrian journalists to substantiate the news before making them public, urging them to embrace faithfulness in relaying information.
"The Syrian media needs a new birth based on innovation and benefitting from the ideological plurality as it is intellectual richness and openness, rather than fanaticism," Hassoun said, considering that national media is the first "line of defense" to give a true image about the homeland.
Hassoun underscored the role of the ministries of education, higher education, culture and information along with the religious establishment in bringing up generations capable of shouldering their responsibilities.
Hassoun hailed Syria's steadfastness over the past two years, stressing the necessity of realizing economic steadfastness and urging business men to return to Syria and help in rebuilding it.
Hassoun wondered at blocking Syrian TV channels, recalling that he has been warning since 1997 of a sectarian war that al-Jazeera Channel seeks to whip up in the region.
The mufti called for according care to the religious discourse in Syria that is the home for moderate Islam as Islam's true message is to "open hearts and illuminate minds."
Hassoun highlighted the Western media disinformation campaigns against Syria intended to form pro-Western public opinion.