Syria
Syrian Greek Patriarch Yazigi Underlines Importance of Dialogue, Renouncing Violence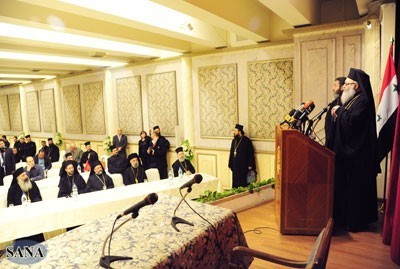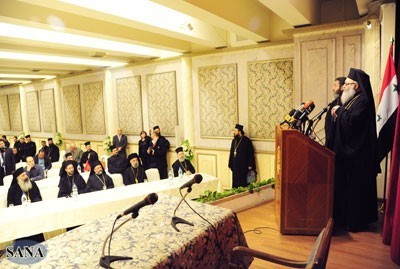 Greek Orthodox Patriarch of Antioch and All the East, John X Yazigi, underlined the importance of sitting at the dialogue table and discarding violence for the benefit of the homeland and its people and in order to preserve peace in the region.
Speaking at a press conference at the Monastery of the Cross Church in Damascus on Saturday, Patriarch Yazigi underscored that the political solution to the crisis in Syria is sought by everybody.
"Syria will make it through these hard times, and security and stability will be restored," said Patriarch Yazigi, adding that "We as Christians have always lived and still live in amity alongside the people of our homeland."
He stressed that the Church of Antioch will continue to be cooperative with all the spectrums in the homeland.
"We together Muslims and Christians are one hand and will always be together against all difficulties," the Patriarch said, adding that "the face of the Christ will always be present in this land from which Christianity spread to the whole world."
Patriarch Yazigi saluted all the Syrians in the homeland and abroad, asking God to protect the Arab world, particularly Syria and Lebanon.
Commenting on the talk on moving the Patriarchate form Syria to Lebanon, the Patriarch said that he did not hear of this, stressing that the Patriarchate will remain based in Damascus at the Mariamite Church in Bab Touma quarter.