Syria
Syrian jets pound positions of terrorists in Idlib, Hama, Homs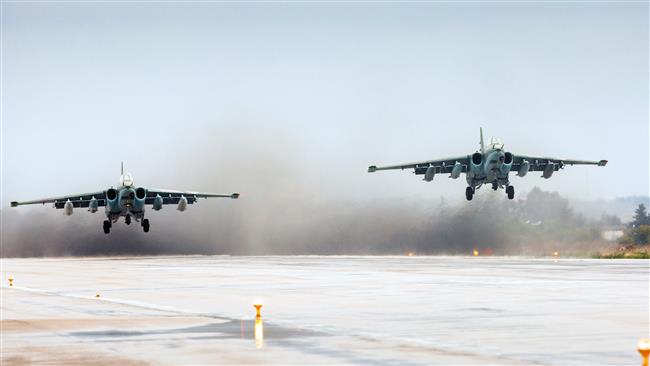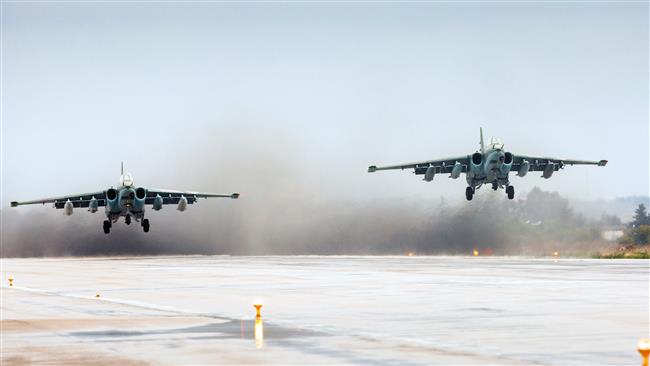 Syrian fighter jets have pounded positions of foreign-backed Takfiri terrorists in the three provinces of Idlib, Hama and Homs.
In the northwestern province of Idlib, a Syrian military source who spoke on condition of anonymity, said the jets on Sunday hit terrorists' positions in the towns of Khan Shaykhun and al-Tamana'ah, the region of Jisr al-Hish and the cities of Saraqib and Jisr al-Shughur, Syria's official news agency SANA reported.
The source added that the militants were primarily members of Jabhat Fateh al-Sham, formerly known as the Nusra Front, which is affiliated with al-Qaeda, Jund al-Aqsa and Ahrar al-Sham terrorist groups.
Syrian fighter jets also bombarded terrorist positions in the towns of Murak and Taybat al-Imam, the city of Suran, and the villages of Atshan and al-Lataminah in Hama.
Elsewhere in Ezzeddin district of the central province of Homs, two senior militant commanders, identified by their noms de guerre as Mohammad Mounir Dabbous and Rakan Abu Abdu al-Homs, were killed and five vehicles destroyed when Syrian military aircraft pounded their hideouts.
Syrian jets also targeted Jabhat Fateh al-Sham gatherings in the villages of Deir Ful and al-Farhanieh, located about 12 kilometers north of the city of Homs.
Also on Sunday, Rami Abdel Rahman, the head of the so-called Syrian Observatory for Human Rights, said Syrian forces backed by allied fighters from popular defense groups were gaining grounds in the eastern militant-held sector of the city of Aleppo.
He said the Syrian army and pro-government forces had taken control of Jandul crossroads in northeastern Aleppo.
The Syrian airstrikes against the positions of terrorists came several hours after Russia vetoed a United Nations Security Council resolution drafted by France that called for a halt to airstrikes by the Syrian government and Russia in eastern Aleppo.
The Russian Foreign Ministry said the resolution "distorted" the realities on the ground in Syria after the collapse of a September deal between Moscow and Washington over a ceasefire in the Arab country.
The draft resolution was proposed regardless of the fact that Damascus and Moscow have repeatedly clarified that their forces are targeting terrorists who are hampering the cessation of hostilities.
The Syrian army launched operations to reunite the government-held western part and the militant-held eastern section of Aleppo on September 22.