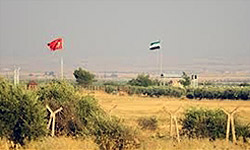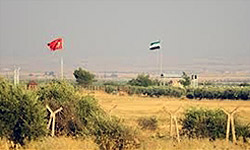 Syrian Information Minister Omran Zoabi said that Ankara is responsible for unrests of Syria's regions near its border with Turkey.
"Turkey is responsible for Syria-Turkey border skirmishes, because such incidents did not happen near the borders of two countries before (the start of the recent clashes)," Zoabi stressed.
Zoabi condemned Ankara for accusing Damascus of firing mortars into Turkey which killed five Turkish nationals in the southern Turkish border town of Akcakale, underlining that the source of the mortar attack is not clear yet.
The Syrian minister said the source of the Wednesday mortar attack on Turkish soil is still under investigation by Damascus.
He reminded that his country is sorry over the incident and has already expressed its sorrow in this regard. "Syria condoled the victims of that incident on the basis of ethical principles and brotherly relations between the Syrian and Turkish nations," the minister said.
On October 3, a mortar hit the border town of Akcakale in Southern Turkey.
It was not clear who fired the mortar into Turkey, but security sources said it had come from near Tel Abyad and that Turkey was increasing the number of troops along its border.
Syria said it was investigating the source of the mortar bomb and urged restraint. Information Minister Omran Zoabi conveyed his condolences to the Turkish people, saying his country respected the sovereignty of neighboring countries.
But, Turkey fired artillery and mortars at targets inside Syria for a fifth consecutive day on Sunday.
Since the beginning of unrests in Syria in March 2011, Turkey has tried hard to intensify the crisis in Syria by training terrorists and sending weapons to the Arab country. Such behavior resulted in further problems for the government of Turkish Prime Minister Recep Tayyip Erdogan in its relations with its neighbors.