Syria
Syrian Minister of Awqaf: Syrian Society is Home for Tolerance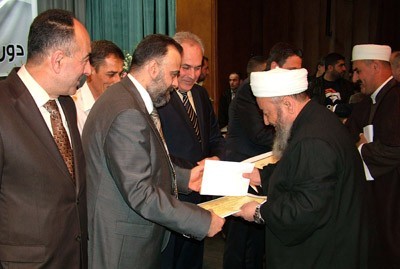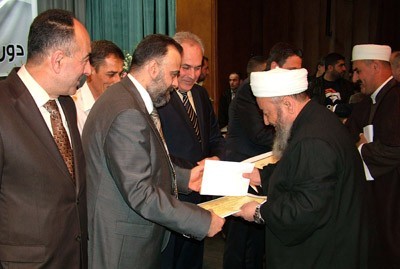 Minister of Awqaf (Religious Endowment), Mohammad Abdul-Sattar al-Sayyed, stressed on Saturday that the Syrian society was and still is home for Islamic tolerance.
During the Preachers and Imams in the Middle and Coastal Regions Forum held in Tartous, Minister al-Sayyed pointed out that the religious discourse in Syria does not include hatred or takfiri thoughts, adding that the most important effects of the religious discourse in Syria is consolidating the values of dialogue and national reconciliation, in addition to discarding violence.
The Minister said that the role of Muslims and Christian scholars during the current stage is spreading tolerance, fraternity and amity.
He noted that the terrorists who practice "Jihad in the name of God" have destroyed mosques as they did in the Umayyad Mosque in Aleppo which is an icon of civilization, and they destroyed several churches.
He stressed the importance of dialogue to reach national reconciliation far from extremism and destructive slogans.
Mufti of Homs Province, Sheikh Fathallah al-Qadi, stressed the importance of this forum which brings together religious scholars to exchange viewpoints and to unify their ranks.
Sheikh Abdul-Ghani al-Farran, from Hama Province, pointed out that this forum consolidates cooperation, amity and reconciliation, stressing commitment to the principles of Islam through dialogue and defending the homeland.
The Greek Orthodox Bishop of Safita, Demetrius Sharbak stressed that Muslims and Christians should double their efforts in spreading awareness about the current events.