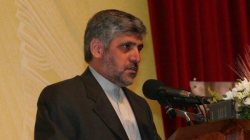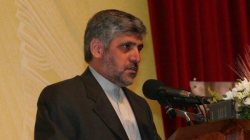 Members of the newly-established political party 'Syria's National Reform' in a meeting with the Islamic Republic of Iran's Ambassador to Syria, Mohammad Reza Sheibani on Sunday hailed Iran's stances on Syria's political developments.
Hani al-Kheir representing the participating members, while hailing IR Iran's stance vis-à-vis the plots by the enemies of the Muslim nations of the Middle East, emphasized the need for making the resistance more active while pursuing the victory.
Head of Syria's National Reform Party, Hussein Ragheb, also in his speech while referring to the track record of bilateral relations between Iran and Syria thanked IR Iran for its stance vis-à-vis Syria's political developments.
"Our people will never forget the stances of Iranian leadership and nation in supporting the Syrian nation under difficult conditions," Ragheb added.
Sheibani, for his part, referred to Iran-Syria strategic relations and reiterated the need for participation of all Syrian social factions in the reform process of that country.
He said that the failure of the West's wrong polices, particularly the unacceptable policies of the US are due to resistance of the Middle East's nations against the extravagance of the West and the Zionists.
Sheibani noted that if the West insists on continuing its previous policies, nothing but failure awaits them in the future.