Middle East
Syria
Syrian people bear sole responsibility for country's future: FM Muallem
Syrian Foreign Minister Walid al-Muallem says only Syrian people have the exclusive right to decide the future of their country.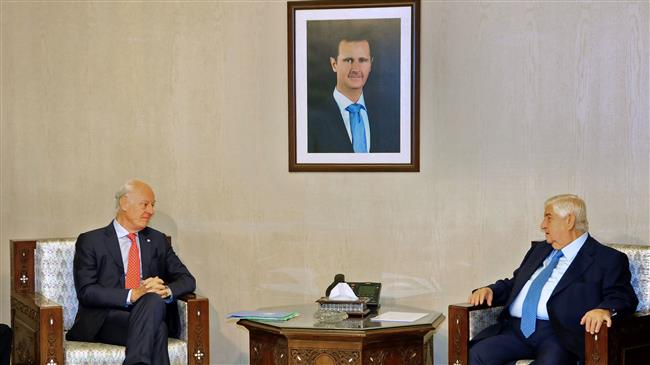 The Syrian top diplomat made the remarks during a meeting with a delegation led by UN Special Envoy for Syria Geir Pedersen in capital Damascus on Sunday, Syria's official news agency reported.
The two sides discussed a number of issues regarding the situation in the Arab country, as they both agreed that the persisting and unilateral economic sanctions against the Syrian nation have deteriorated the economic situation, particularly as the COVID-19 pandemic rages across the globe.
Touching on the work of the Committee of Discussing the Constitution for Syria, both sides underlined the importance of the success of its work which requires the adherence to the agreed rules of procedures, the report added.
Muallem stressed that all the process of formation and work of the committee in all of its stages is led and owned solely by the Syrian nation and Syrians, therefore, have the exclusive right in deciding the future of their country.
Elsewhere in his remarks, the Syrian foreign minister presented details about the Syrian government's intention to hold an international conference on refugees on the 11th and 12th of November.
He also denounced the Western role in setting conditions and fabricating flimsy pretexts to halt the return of Syrian refugees to their homeland, slamming the West for politicizing the purely humanitarian issue and its use as a card for advancing their political agendas.