Syria
Syrian People Reject any External Interference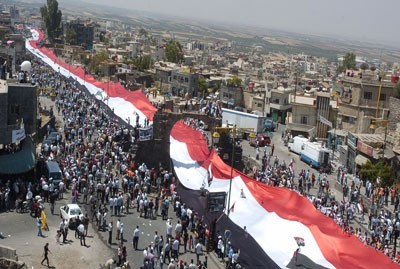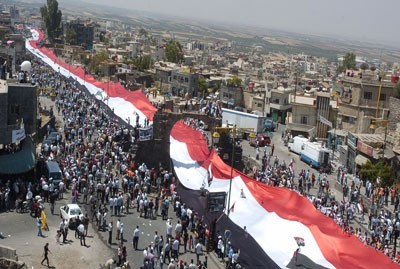 Vice President Farouk al-Sharaa said Thursday that the Syrian people categorically reject any foreign intervention in their internal affairs as they support the national reform process.
During a meeting with China's Special Envoy to the Middle East, Wu Sike, al-Shara talked about the reform process announced by President Bashar al-Assad to meet the citizens' interests and achieve hopes and aspirations of the Syrian people.
He expressed Syria's appreciation for China's positions, along with the Federal Russia, in the UN Security Council for supporting the reform process carried out by Syria and rejection of outside interference in its internal affairs.
Al-Shara voiced Syria's welcome of the Arab initiative and its content in a way that accords with the national sovereignty, pointing out to the importance of the national dialogue for which preparations have begun.
For his part, Sike underlined China's firm position towards the events in Syria, hailing the steps taken regarding the national reform and reiterating China's refusal of any form of outside interference in Syria's internal affairs.
Ways of developing bilateral relations between the two countries and the situation in the region were also on the table.
Later, Minister of Foreign Affairs and Expatriates Walid al-Moallem explained to the Sike, the events taking place in Syria and the steps taken by the Syrian government to meet the citizens' legitimate demands.
Al-Moallem underlined the government's efforts to achieve reforms and hold the national dialogue conference in Damascus.
Minister Al-Moallem also briefed Sike on the outcome of President Bashar al-Assad's meeting with the Arab League Ministerial Committee yesterday.
For his part, Sike reiterated his country's keenness on Syria's stability and security which are essential to stability in the Middle East, hailing the Syrian leadership's efforts to deal with the current situation through dialogue and reforms.
He said "China will continue cooperation and coordination with Syria at international forums, stressing its standing against all attempts of foreign interference in Syria's Affairs."
The talks also dealt with means of enhancing cooperation between the two countries to reach strategic partnership.