Syria
Syrian PM: New Syria Has No Place for Conspirators and Traitors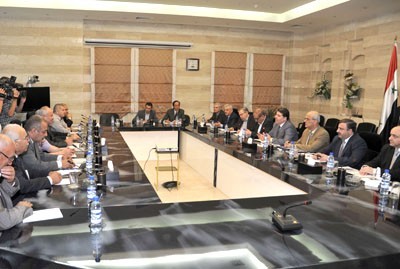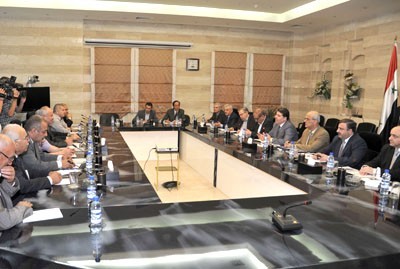 Syrian Prime Minister, Dr. Wael al-Halqi said that there is no place in the new Syria for conspirators and traitors.
During a meeting of the ministerial committee tasked with implementing the political program for solving the crisis with members of the executive office of the General Union of Syrian Craftsmen, headed by chairman Yassin al-Sayyid Hassan, al-Halqi said that the political program is the only way to solve the crisis in Syria, indicating that any international conference must be part of the efforts to make the national dialogue conference in Syria a success.
Al-Halqi said that no country has the right to meddle in the internal affairs of the Syrian people, as only the Syrians are entitled to draw their political, economic and social future.
Al-Halqi called all Syrians to join the national dialogue, lauding the great achievements of the Syrian Arab army in cracking down on the armed groups on the Syrian soil.
Al-Halqi highlighted the care accorded to the handicrafts industry to iron out the difficulties facing the craftsmen, calling for striking a balance between the consumer protection and economic openness.
For his part, al-Sayyid Hassan voiced support to the government's efforts for implementing the political program as the sole way out of the crisis for restoring security and stability to the country.
Members of the executive office stressed that national dialogue is an ethical value which is deemed the sole substitute for the state of violence and bloodshed, calling on the international community to back the political solution in Syria and refrain from backing terrorism.
They also stressed commitment to the path of resistance for restoring the occupied lands and abolishing all armed phenomena outside the state's jurisdiction, stressing the necessity that the state asserts full control on the Syrian land.
The two sides hailed the final statement of the Friends of Syria Conference which was convened in Tehran, especially its emphasis on the importance of national dialogue and call for lifting the economic sanctions on the Syrian people, in addition to urging the displaced Syrians to return to the homeland.
In a press statement following the meeting, chairman of the General Union of Syrian Craftsmen described the meeting as "fruitful" that discussed a variety of issues and concerns of interest to the craftsmen and citizens, with emphasis laid on the importance of the public sector for national economy.
He added that the craftsmen support the political program for solving the crisis in Syria that preserves Syria's sovereignty and independent decision.