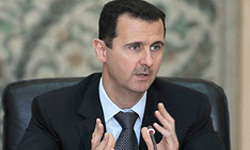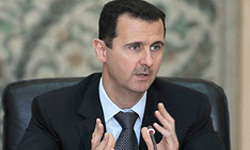 Syrian President Bashar al-Assad on Saturday condemned the recent terrorist attack in Iran's southeastern province of Sistan and Balouchestan which killed 42 people, including senior military officials.
In a statement issued by the Syrian embassy in Tehran, Assad expressed sympathy for the Islamic Republic over the savage crime which targeted the country and the nation of Iran.
"We also lay emphasis on our principled way in rendering support to international efforts to fight against any kind of terrorist act," the statement added.
A bomb exploded as participants headed to a unity conference between Shiite and Sunni groups in southeastern Iran, killing at least 42. The blast in the city of Sarbaz, in Sistan and Balouchestan, wounded 28 others.
Lieutenant Commander of the Islamic Revolution Guards Corps (IRGC) ground force Brigadier General Nourali Shoushtari, Sistan and Balouchestan province's IRGC commander General Mohammadzadeh, Iranshahr Corps commander, Sarbaz Corps commander and Amiralmoemenin Brigade commander were among the martyrs of the terrorist attack.
The Syrian president also expressed confidence that the Islamic Republic of Iran and its wise leadership are capable of confronting all conspiracies and plots targeting the country's national unity.