Iran
Middle East
Syria
Syrian President, Senior Iranian Official Discuss Enhancement of Strategic Ties
Syrian President Bashar al-Assad and Senior Assistant to the Iranian Foreign Minister for Special Political Affairs Ali Asqar Khaji in a meeting in Damascus conferred on avenues to further bolster strategic relations between Tehran and Damascus.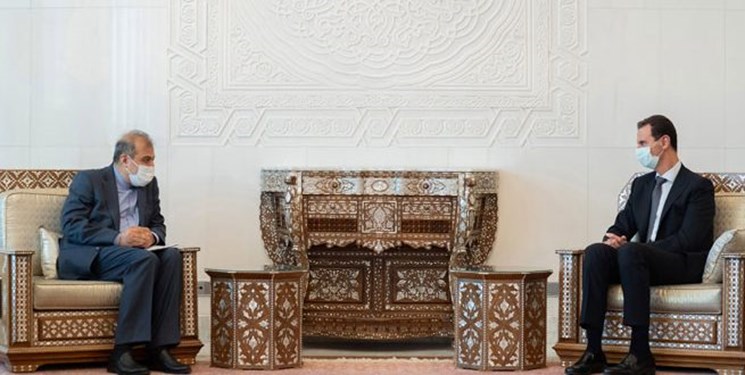 The Syrian president received Khaji at the presidential palace in Damascus on Wednesday, where they discussed a range of issues, including the enhancement of "strategic" relations and bilateral economic cooperation in the face of the unilateral Western sanctions.
The two sides also discussed a number of political issues, including the Astana meetings, the progress made in the previous meetings and the agenda of the next meeting in the Russian resort city of Sochi scheduled for February 16-17.
The Astana format was initiated by Iran, Russia and Turkey to bring the warring sides in Syria together to find a permanent solution to the conflict in the Arab country. The peace process is known as the Astana process because Kazakhstan's capital, Nur-Sultan, formerly called Astana, originally hosted the meetings.
In their Wednesday meeting, President Assad and Khaji also held consultations on the fifth meeting of the Constitutional Committee held in the Swiss city of Geneva late last month.
President Assad also appreciated Iran's support for the Syrian people and government and underlined the need for constant coordination and consultations between Tehran and Damascus.
The Iranian official also briefed the Syrian president on Iran's stances on the Astana format and the Constitutional Committee.
He also stressed the importance of continuing the work of the Astana mechanism as well as helping facilitate talks in the Constitutional Committee towards resolving the conflict in the Arab country.
Among Syrian officials present at the meeting were Bouthaina Shaaban, the political and media adviser to President Assad, and Deputy Foreign Minister Bashar al-Jaafari.
On the sidelines of the regular meeting of the constitutional committee in Geneva in late January, the three guarantors of the Astana format – Iran, Russia, Turkey – held a trilateral meeting, at the end of which, they issued a joint statement, reaffirming their readiness to support the committee's work through continued interaction with the Syrian delegates and UN Special Envoy for Syria Geir Pedersen, as the facilitator, to ensure its sustainable and effective functioning.
The joint statement underlined the role that was being played by the Committee and its contribution to talks that take place within the Astana format.
The three guarantors, therefore, stressed that the Committee must be allowed to further its progress without outside pressure and any imposed timetables so it can reach a conclusion that could be put to vote by the Syrian people.