Syria
Syrian Prime Minister Stresses Need to Bolster the Steadfastness of Syrians and Palestinians in the Face of Conspiracies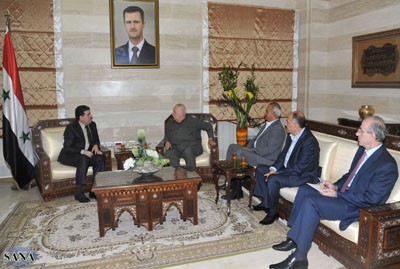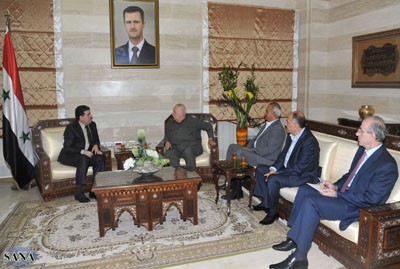 Prime Minister Dr. Wael al-Halqi affirmed that Syria is facing an international conspiracy aiming to destabilize and fragment it and deviate it from its resistant role in the region to achieve the goals of western countries, primarily the US and Israel.
During his meeting on Sunday with a delegation from the Popular Front for the Liberation of Palestine – General Command headed by its Secretary General Ahmad Jebril, al-Halqi stressed the need to bolster the steadfastness of the Syrians and Palestinians in the face of the conspiracies targeting them, underlining the need to provide the requirements of steadfastness particularly in light of unjust embargos and sanctions imposed by the west on Syria which affect citizens' livelihoods and needs.
The Prime Minister said that these sanctions are supported by Arab and regional countries that are involved in the conspiracy against Syria, mainly Turkey, Saudi Arabia and Qatar, asserting that Syria will emerge victorious and more determined thanks to the steadfastness and unity of its people and its valiant army.
He noted that the political situation improving in terms of global understanding of the nature of the conspiracy against Syria and the considerable efforts exerted to strengthen national economy.
For his part, Jebril affirmed that the Palestinian people support their Syrian brethren in confronting the conspiracy which targets them both, stressing the need to persist in standing fast and fighting to achieve victory.
Al-Halqi: All Basic Food and Provisions Supplies Available at Reasonable Prices
Later, al-Halqi chared a meeting at the Ministry of Internal Trade and Consumer Protection, during which he stressed the importance of the government's strategic development programs and plans and the role of the Ministry in supporting national economy.
He said that the government will work to overcome all obstacles affecting establishments of the Internal Trade Ministry by amending laws and legislations and restructuring the Ministry and its establishments to reduce squandering and control spending.
Al-Halqi stressed the need to curb faults and corruption in state establishments, finish each establishment's annual budgets and accounting on time, ending financial entanglement and accumulation, and using positive intervention to provide goods at reasonable prices across Syria.
He noted that the methodical sabotage affecting Syria's establishments and infrastructure drains the country's strategic reserves and causes the loss of billions, adding that despite that, Syrian economy is growing and has all the components of sustainability and endurance due to the presence of a strategic reserve of various provisions.
Afterwards, Deputy Prime Minister and Internal Trade and Consumer Protection Minister, Dr. Qadri Jamil, reviewed the state of work at the Ministry's establishments and the challenges facing it.