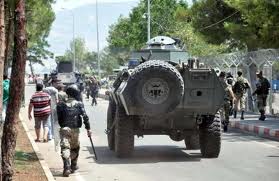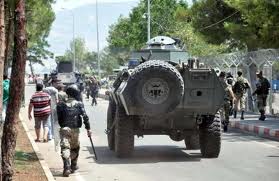 Turkish police fired tear gas on stone-throwing Syrian refugees who were protesting Sunday at the lack of food and water at camps on the border with their conflict-ravaged homeland.
A Turkish official said demonstrations erupted at two of the 10 camps set up along the border which are sheltering about 40,000 Syrians who have fled the crisis at home.
The unrest flared after Syrian insurgents seized a nearby border post after hours of fighting during the night.

"We have had no food for three days," said a young Syrian boy standing outside the container city of Kilis.
At Kilis, a camp that lies nearby the Oncupinar border crossing which faces the Al-Salama outpost on the Syrian side, police used teargas to disperse a group of refugees angry about food and water shortages who were throwing stones at police, a Turkish official said.
Refugees at the Kilis camp said two demonstrators have been killed but the Turkish official said there was no confirmation of any deaths, although one Turkish policeman was injured.
CNN Turk television reported that some Turkish police had briefly been taken hostage.
After the clashes, many refugees gathered outside the camp, and some were leaving Turkey in their cars, heading back toward the Syrian side of the border.
Similar protests erupted at the Islahiye camp about 90 kilometers away, the official said.