Syria
Syrian Soldiers Gun down ISIL Member Responsible for Destroying Palmyra' Ancient Ruins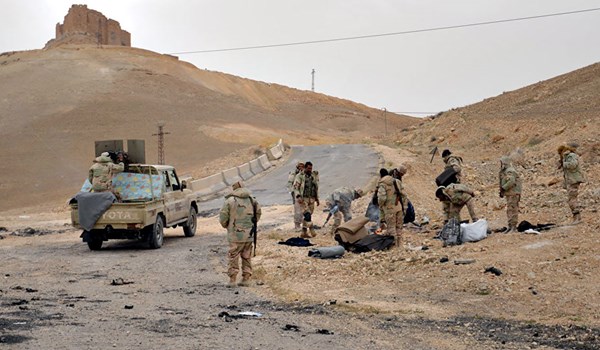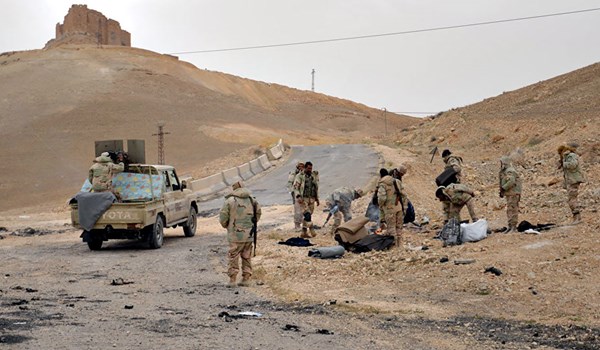 An ISIL commander who destroyed a part of the historic ruins in the ancient city of Palmyra (Tadmur) in 2015 was killed in the Syrian Army soldiers' offensive in Eastern Homs, local sources said.
The sources reported that Abu Hamid al-Sukhni, a commander of ISIL who was featured by the terrorist group's outlets as destroying ancient UNESCO sites back in 2015 when the terror group overran the ancient city, was killed in clashes with the army men in the desert of Eastern Homs.
The ISIL chief originated from al-Sukhnah, a town on the highway between Palmyra and Deir Ezzur.
He reportedly commanded an ISIL battalion personally.
Also, the army continued military operations near Palmyra (Tadmur) in Homs province on Thursday, and advanced in Badiyeh al-Sharqi region near the ancient city.
The Syrian troops regained control of Jabal al-Mazar mountains, 15km away from Palmyra, after heavy clashes with the ISIL in the Eastern parts of the city.
Tens of ISIL terrorists were killed and wounded in clashes with the army.
Also, the army won back control of several warehouses in the region.