Middle East
Saudi Arabia
Syria
Syrian Tribes Refuse to Cooperate with zionist Saudi-US Separatist Moves in Eastern Syria
The Syrian tribes in Deir Ezzur province have stood against a Saudi-US plot to support the Kurds to decompose Eastern Euphrates from Syria.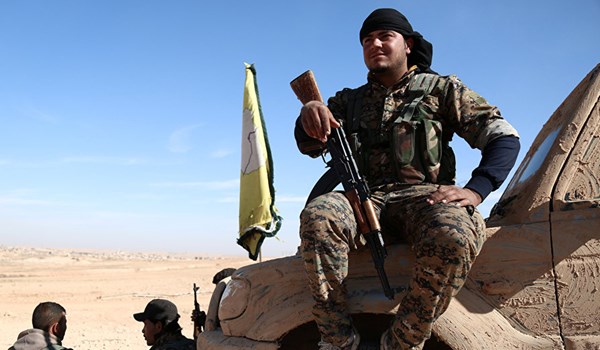 The Arabic-language al-Ahd news website quoted the leader of al-Moshahedah in al-Jazeerah region in Eastern Euphrates Sheikh Heidar al-Hamadi as saying on Wednesday that all Syrian tribes, except a little number of them, have opposed the recent meeting by Saudi Minister for Persian Gulf Affairs Thamer al-Sabhan to Kurdish-occupied regions to study plots to separate Eastern Syria from the country's territory.
He underlined al-Sabhan's attempts to coax the tribes in Eastern Syria into implementation of separatist plots, and said most of them want Damascus to retake control of the region.
Meantime, the Arabic-language al-Watan newspaper reported that a Swedish delegation, including the country's representative for Syria affairs, the Swedish foreign ministry official for Syria affairs and the official for the agency on international aid, have entered the Kurdish-occupied regions in Eastern Syria and held meetings with a number of commanders in line with the western states' accelerated attempts to interfere in Syria's internal affairs and assist the Syrian Democratic Forces (SDF) in their separatist dreams.
Mohammad al-Akam, a senior Syrian legislator, said that a tripartite coalition has been formed among Saudi Arabia, the Kurdish forces and Israel under the US supervision which pursues pressures on Damascus after gaining victory over terrorist groups, by separating the Northeastern parts of the country.
Head of the politburo of Turkey-backed Lawa al-Mo'etasam-Free Syrian Army terrorists Mostafa Sejari wrote on his twitter page on Monday that Riyadh had stopped financial support for the terrorist groups in Northern Syria in line with a fresh scheme to help Kurds cut off Eastern Syria from the mainland after a Saudi-US delegation met in Deir Ezzur.
He added that Saudi Arabia had decided to cut financial support for the regions occupied by the terrorist groups in Northern Syria.
He added that the measure was adopted after Riyadh started support for the separatist Kurdish groups in Northeastern Syria following a visit by Thamer al-Sabhan to Kurdish-occupied regions.
Sejari underlined that Saudi Arabia wants to pressure Turkey, warning, "All of us will be harmed by this measure."
Media reports said on Friday that American and Saudi diplomatic delegations held a meeting with commanders of the US-backed SDF and a number of tribal leaders in a Washington-occupied base in Deir Ezzur in a bid to coordinate a plan for the separation of Eastern Euphrates from Syria.
The Arabic-language Step news website affiliated to the militants reported that recently a meeting was held between the two sides in al-Omar oilfield region in Eastern Deir Ezzur.
It added that Deputy Assistant Secretary of State Joel Rayburn, former US Ambassador to Bahrain William V. Roebuck and Thamer al-Sabhan participated in a meeting with Qassan al-Yousef and Leili al-Hassan, the co-chairs of Deir Ezzur civil administration, noting that the event was meant do coordination for supporting the SDF-occupied regions against any possible threat and political and economic support for the SDF in Northern and Northeastern Syria.
According to the report, another meeting was also held between the Arab and US delegations and a number of tribal leaders of Deir Ezzur in al-Omar base to remove differences between the tribes and the SDF and discuss financial and logistical support for the Eastern Euphrates region.
Meantime, the Arabic-language Xeber 24 news website reported that al-Sabhan conveyed a message from Saudi Crown Prince Mohammed bin Salman on his full support for militants in Northeastern Syria.
Syria affairs analysts are concerned about the US-Saudi plan to cut off Eastern Euphrates from the mainland, saying that the Saudi minister has paid some money to the tribal leaders to coax them into cooperation with the Kurdish militia and support for Riyadh's influence in the region.
The US has increased military support for the Kurds in Eastern Syria in recent months.