Syria
Syrians rally for support their government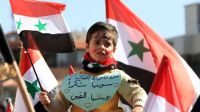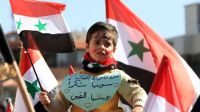 Syrian people have taken to the streets in the northwestern city of Idlib to express support for the Syrian army in its operations against foreign-backed insurgents.
According to IRIB, the demonstrators also chanted pro-government slogans on Monday in support of Syrian President Bashar al-Assad.
Meanwhile, Syrian soldiers killed scores of insurgents during mop-up operations in the country on Monday. A number of insurgents were killed in intense clashes with Syrian troops in the Lirmoun neighborhood of the northwestern city of Aleppo.
On Sunday, Syrian soldiers in Aleppo arrested eight terrorists who had terrorized citizens and committed numerous counts of murder, robbery, and looting.
In the city of Deir al-Zour, located about 450 kilometers northeast of Damascus, Syrian forces attacked insurgents and killed a large number of them in the Abu Khashab neighborhood on Sunday.