Syria
Syrians steadfast in fighting terrorism: Assad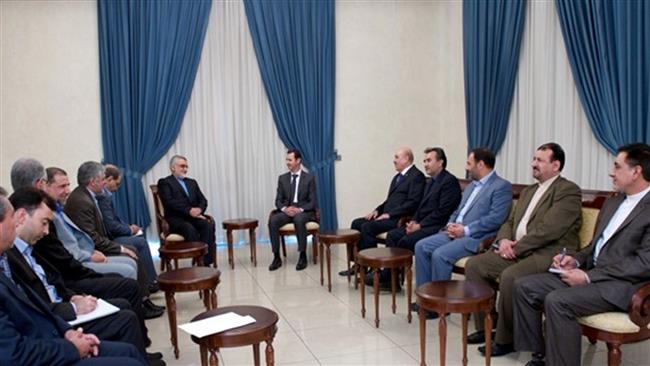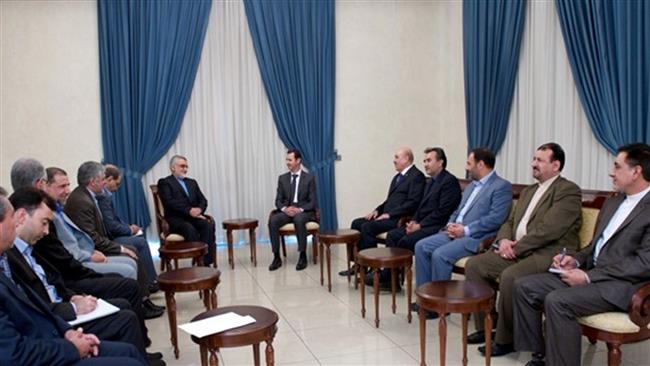 Syria's President Bashar al-Assad says terrorists' fueling of violence will not undermine Syrians' determination to combat terrorism.
Assad made the remarks in a meeting with Chairman of the National Security and Foreign Policy Committee of the Iranian Parliament (Majlis) Alaeddin Boroujerdi in the Syrian capital of Damascus on Wednesday.
During the meeting, Assad and Boroujerdi discussed developments in the region and highlighted the support that some western and regional countries lend to terrorists who are used as pawns to fight for the interests of countries backing them at the cost of the region's instability and people's lives.
The Syrian president stressed that fanning the flames of violence against Syrians by terrorists and their supporters has failed and will always fail to weaken the Syrians' steadfastness to eliminate terrorism.
Assad further noted that terrorists' and their backers' lies and propaganda to gain what they could not achieve on the ground have been of no avail for the terrorists, and that Syrians are resolute to uproot terrorism and violence in the country with the assistance of friendly countries like Iran.
Boroujerdi, for his part, stressed that steadfastness of the Syrian people and the strength of the Syrian army and leadership can verily defeat terrorists and their supporters.
He further expressed Iran's readiness to support Syria till the crisis in the country is over, adding that no force in the world can disturb relations between Tehran and Damascus.
The development comes as Syrian government forces backed by fighters from the Lebanese resistance movement Hezbollah have made major advances in the mountainous Qalamoun region, north of Damascus and along the border with neighboring Lebanon.
On Wednesday, the joint forces established full control over the highest peak in the strategic hills in the east of Qalamoun, including the Tallit Mussa hilltop, one of the most strategic positions in the region.
Hezbollah fighters and Syrian army soldiers also managed to drive members of the al-Qaeda-affiliated al-Nusra Front out of Qalamoun in deadly conflicts which left dozens of terrorists killed and wounded.
Syria has been struggling with a deadly crisis since March 2011. The violence fueled by Takfiri groups has so far claimed the lives of over 222,000 people, according to reports.
The United Nations High Commissioner for Refugees (UNHCR) says over 7.2 million people have also been internally displaced while more than three million others have fled Syria due to the crisis in the Arab country.