Syria
Syrians voice support for armed forces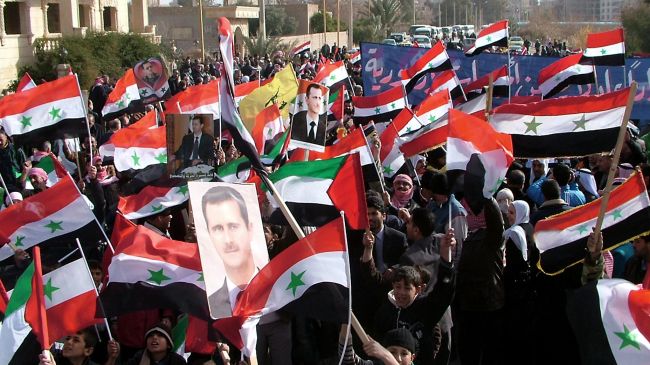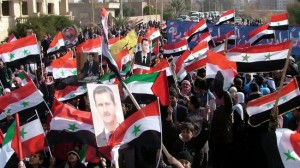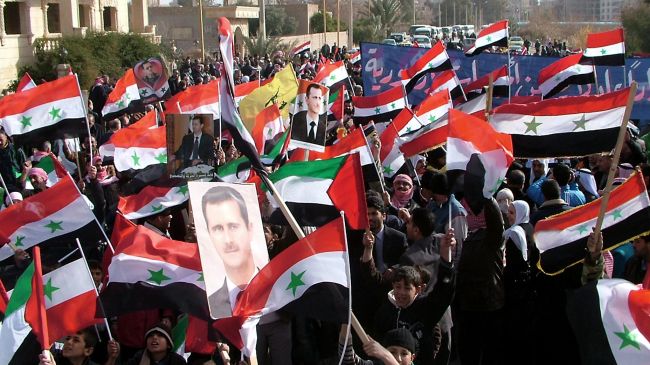 People have taken to the streets in several cities across Syria to express support for the country's army, which is battling a foreign-sponsored militancy.
The demonstrators on Tuesday held marches in the cities of Homs and Hama, carrying portraits of President Bashar al-Assad and waving Syrian flags, the official SANA news agency reported.
They also thanked the armed forces for the sacrifices they are making in their fight against the militants and hailed their victories.
The demonstrators also denounced terrorism in Syria backed by Western powers and their allies in the region.
The marches come as the army has made major gains across the country.
On Monday, Syrian troops discovered many caches where militants in the strategic al-Qalamoun region used to keep their weapons after regaining the area. Syrian soldiers found depots of explosives, mortars and missiles in various parts of the region.
The army units also discovered many workshops for making moulds used for producing mortar shells.
The Syrian troops on Sunday conducted a series of operations in eastern al-Ghouta and elsewhere in the countryside of the capital Damascus, killing many militants and destroying their weapons.
The Syrian army also inflicted heavy losses on the foreign-sponsored militants in a number of areas, including al-Ghanto, al-Mashjar al-Janoubi, Beit Rabia, Talbiseh, Beit Hajjo, al-Sain, Um Sharshouh, in the countryside of Homs.
Syria has been gripped by deadly violence since March 2011.
According to reports, the Western powers and their regional allies — especially Saudi Arabia, Qatar and Turkey — are supporting the militants operating inside Syria.