Syria
Syrians' wish to resolve Syria crisis: Iran Majlis speaker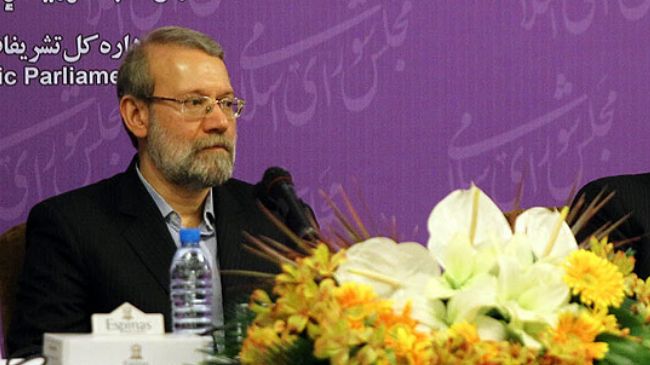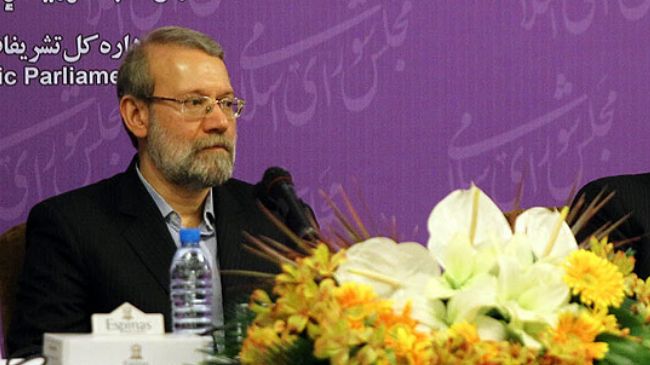 Iran Majlis Speaker Ali Larijani says countries that are friends of Syria favor a democratic solution to the Syrian crisis.
Addressing the second meeting of heads of parliamentary foreign policy committees of friends of Syria in the Iranian capital, Tehran, on Sunday, Larijani said the event is a kind of support for democracy and also aims to send a negative message to those responsible for the massacre of people in the region.
He added that participants in the meeting pursue the fight against terrorism through promotion of democracy in the region, not by dispatching arms to terrorists as some countries have been doing in Syria.
Larijani also slammed some foreign countries for involvement in a "dirty adventurism" in Syria, saying that the West thought the conflict in Syria could provide the Israeli regime with breathing room and supplied foreign-backed militants in the Arab country with military and financial support.
Parliamentary representatives from 25 countries attended the Sunday Tehran conference.
The heads of all the participating parliamentary delegations are scheduled to deliver speeches in the event.
The meeting is in line with Iran's policy to find a peaceful solution to the conflict in Syria and establish peace and security in the country, which serves as the front-line of anti-Israel resistance in the region.
The first meeting of this kind was held in the Iranian capital in March, bringing together delegations from Russia, Algeria, Lebanon, Iraq, Venezuela, Syria and Iran.
Some reports say over 160,000 people have been killed in more than three years of turmoil that has gripped Syria since March 2011. Millions have been also displaced.