Syria
Syria's Jaafari: It's Time for West to Accept Assad here to Stay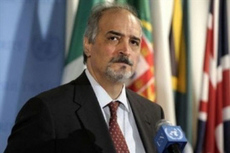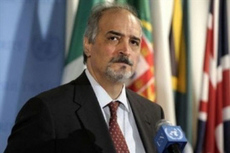 Syria's envoy to the United Nations says it's time for the United States and other Western powers to accept that President Bashar al-Assad is here to stay, and to abandon "a failed strategy of trying to split the Middle East into sectarian enclaves."
Speaking to Reuters on the eve of the fourth anniversary of the Syrian crisis, Syria's UN ambassador Bashar Jaafari insisted that keeping Assad, who was re-elected last year in a poll his foes regard as illegitimate, was the only path to peace and unity.
Bashar al-Jaafari"President Assad can deliver because he is a strong president. He rules over a strong institution, which is the Syrian army. He has resisted pressure for four years."
"He is the man who can deliver any solution," he said, stressing: "We don't want any vacuum in the country that would create chaos such as happened in Libya and Iraq and … Afghanistan," Jaafari added.
The Syrian diplomat meanwhile, noted that President Assad was ready to work with the United States and others to combat terrorism in the Middle East.
He said that "many European delegations" had visited Damascus to ask for strengthened anti-terrorism cooperation.
"We are telling everyone … if you want this cooperation to be fruitful you need to get back to Syria, to reopen your embassies."
On the other hand, Jaafari blasted US President Barack Obama's strategy of training and arming the "so-called moderate rebels," saying it had only served to deliver weapons into the hands of the Takfiri group operating in Syria and Iraq.
The training of rebels has proven difficult. The Hazzm movement was once central to a covert CIA operation to arm Syrian rebels, but the group's collapse last week underlined the failure of efforts to unify Arab and Western support for mainstream insurgents.
Jaafari also assured that "this is not a Syrian conflict," but rather "it is an international terror war waged against the Syrian government and the Syrian people," he added, referring to the tens of thousands of foreign militants who have joined ISIL and other Takfiri groups in the country.