Syria
Tahrir Al-Sham's Key Military Base Destroyed in Syrian Airstrikes in Aleppo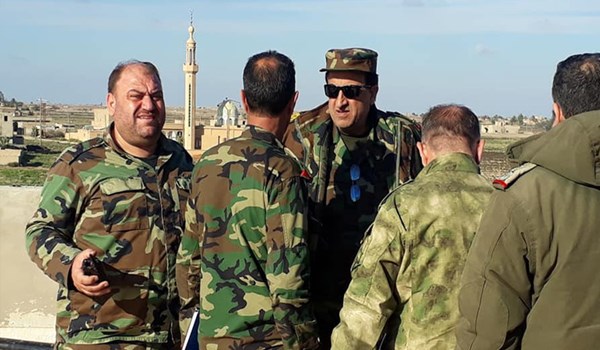 The most important military base and two arms-ammunition depots of Tahrir al-Sham al-Hay'at (the Levant Liberation Board or the Al-Nusra Front) were destroyed in massive airstrikes by the Russian and Syrian fighter jets in Western Aleppo in Northern Syria, media sources said.
The Arabic-language Al-Watan newspaper quoted a military source as saying that the Syrian and Russian air forces carried out several attacks on the terrorists' military positions in Western Aleppo, specially Regiment 46 near the town of al-Zorbeh which is a big military base of Tahrir al-Sham and one of the most important training centers of the terrorist group in Western Aleppo.
It noted that Tahrir al-Sham's military base which was destroyed in the joint airstrikes contained trucks loaded with military equipment and ammunition to back up other terrorist groups in the battlefronts of Hama.
Two depots containing Grad and TOW missiles were also destroyed in the surrounding areas of al-Mohandesin 2 and all the terrorists inside them were killed.
Meantime, the Syrian Army's air force and artillery units heavily pounded the military positions and movements of the terrorist groups in all battlefronts of Northern Hama and Southern Idlib, including Kafar Zita, al-Latamineh, Tal Malh, Khan al-Sabal, Ma'areh al-Numan and Khan Sheikhoun, killing tens of them.
The Syrian Army troops also downed several drones armed highly-explosive bombs and equipped with GPRS in areas close to the Hama military base.
In a relevant development in late May, the Syrian Army launched air and ground strikes on Ankara-backed militants across Aleppo province.
The Syria Army engaged in fierce clashes with Faylaq al-Sales terrorists as artillery units pounded the Ankara-backed militants' military positions near the town of al-Bab in Northern Aleppo, the Arabic-language al-Watan newspaper reported.
Field sources, meantime, reported that several military vehicles of the Turkey-backed terrorists were destroyed in clashes with the Syrian army, adding that several militants were killed in exchange of fire.
The sources further said that the Syrian Army's artillery units also pounded the terrorists' military positions in the town of Khalseh in Southern Aleppo.
The Syrian Air Force carried out several airstrikes over territories South-West of Aleppo province, AMN reported.
According to a military source in Aleppo city, the Syrian Air Force specifically targeted the Regiment 46 Base that is located just North of the provincial borderline of Idlib.
The heavy bombardment by the Syrian Air Force came just days after the Syrian Army sent a large number of reinforcements to the Southern Aleppo town of Al-Hadher.