Syria
Takfiri terrorists ruin Shia shrine in Syria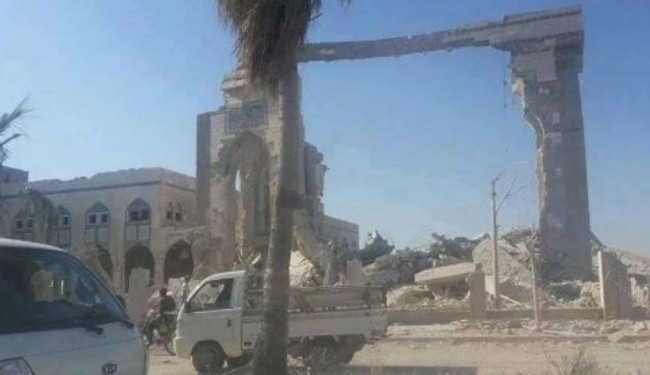 Foreign-backed Takfiri terrorists operating in Syria have destroyed a Shia shrine in the northern province of Raqqa.
The armed insurgents attacked the shrine of Uwais al-Qarani in yet another vicious act that they have demonstrated since the begining of the foreign-hatched conflict in Syria.
Raqqa province has been under the control of a Takfiri group known as the so-called Islamic State of Iraq and the Levant (ISIL) recently.
In Mach, militants from an al-Qaeda splinter group have bombed a large Shia Muslim shrine in the northern Syrian city of Raqqa. Photos of the mosque of Ammar bin Yasir and Uwais al-Qarani posted on the internet showed extensive damage to the exterior walls and roof of the site.
The al-Qaeda-linked ISIL and other Takfiri militant groups have targeted many historical and religious sites in Syria over the past three years, including the holy shrine of Hazrat Zaynab — the daughter of Imam Ali (PBUH) — and churches in the Christian village of Ma'loula, near the capital, Damascus.
The United Nations has expressed concern over the widespread looting and damage at historical sites in Syria.
The country has been the scene of a deadly crisis since March 2011. The Western powers and their regional allies — especially Qatar, Saudi Arabia and Turkey — are said to be supporting the militants operating inside Syria.
A recent British defense study showed that about 100,000 militants, fragmented into 1,000 groups, are fighting in Syria against the government and people.