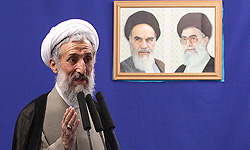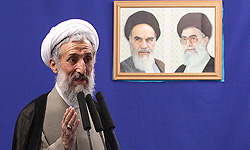 Tehran's Provisional Friday Prayers Leader Hojjatoleslam Kazem Sediqi said on Friday that taking revenge on a terrorist group is not a difficult task for Tehran.
Delivering his second Friday prayers sermon, Hojjatoleslam Sediqi said the October 18 terrorist bombing in Iran's southeastern province of Iran was aimed at dividing Shiites and Sunnis as well as different Iranian tribes.
"Enemies of the country are mistaken because bloods of martyrs will make Iranian nation further united and vigilant," he noted, the Islamic republic news agency reported.
Sediqi further said enemies will never be able to deal the least blow to the Islamic Republic system by such terrorist measures.
"Our system is a powerful system that resisted for eight years (1980-88) during the imposed war and defeated the eastern and western powers," he added.
The terrorist measures are not so powerful and do not have any position in Iran's view, reiterated the cleric.