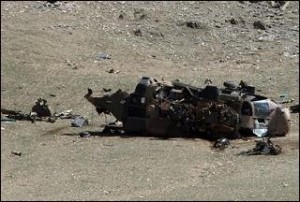 NATO says several Afghan and foreign troops have been wounded after their helicopter was forced to have an emergency landing in southern Afghanistan.
The incident took place in Kandahar province, where NATO and Afghan soldiers clashed with Taliban militants.
Taliban say they have shot down the chopper. They say many foreign troops were killed in the attack.
Taliban also say they have brought down another NATO helicopter in Helmand province, killing dozens of foreign troops there.
Meanwhile, an Afghan official said NATO and Afghan troops killed at least 10 Taliban militants and arrested one of their senior commanders in a joint operation in Helmand.
According to official announcements, 2009 was the deadliest year for foreign troops with a total of 520 US-led soldiers killed in action.
The US-led invasion of Afghanistan was launched with the official objective of curbing militancy and bringing peace and stability to the country.