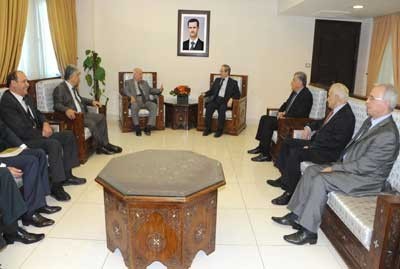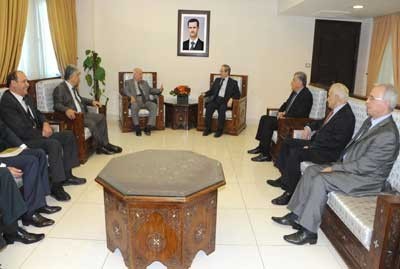 Deputy Foreign and Expatriates Minister Faissal al-Mikdad affirmed that Syria will continue to defend the Palestinian people's rights until liberating their land and establishing their independent state with Jerusalem as its capital.
Al-Mikdad was speaking during a meeting with a delegation of the Executive Committee of the Palestine Liberation Organization (PLO) headed by the Committee's member Zakariya al-Agha.
He reiterated Syria's keenness on the Palestinian cause being the central cause of the Arab nation, decrying the targeting of Palestinian camps in Syria by the terrorists as stark evidence of the deep coordination between Israel and the terrorists within the war waged against the country.
Al-Mikdad underscored that targeting the Palestinian refugees and ending the right to return as a preliminary step toward liquidating the Palestinian cause are part of the war against Syria.
For his part, al-Agha asserted the Palestinian leadership's keenness on Syria's territorial integrity and security, considering that a peaceful solution to the crisis in Syria is the only solution.
He reiterated that the Palestinian leadership's principled stance stresses on that the Palestinian refugees do not get involved in the current events in Syria and on holding the armed terrorist groups fully responsible for the suffering of the residents of the Palestinian camps under these groups' control.
Al-Agha highlighted the importance of continuous communication between the Palestinian and Syrian leaderships to coordinate stances in the face of the attack targeting both friendly peoples.
For his part, member of the PLO Executive Committee and Minister of Labor, Ahmad Abdul-Salam al-Majdalani, presented a review of the latest developments related to the risks posed to the Palestinian cause, noting that the Israeli policy of building settlements is the main obstacle in the way of reaching a just and comprehensive solution to this cause.
The meeting was attended by Assistant Foreign and Expatriates Minister Hamed Hassan, the Palestinian Ambassador to Syria Mahmoud al-Khaldi and Director of the PLO Political Circle in Damascus Anwar Abdul-Hadi.