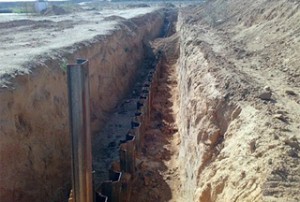 Work on the Gaza-Egypt steel barrier, which has been going on with US assistance, has been halted in some places due to technical difficulties, an Egyptian newspaper says.
According to workers, the border area's geological characteristics are hindering work and preventing construction teams from laying steel plates, Al-Masry Al-Youm reported on Friday.
They further explained that boulders had made it impossible to drill deeper than four meters into the ground at some spots.
The workers also said that it was the most serious problem they had encountered since construction of the underground barrier began.
The steel wall would block a network of underground tunnels the Palestinians use to bring in a wide variety of goods and products that Israel does not allow into Gaza due to the closure of the commercial crossings with Israel.
The illegal Israeli-imposed blockade of the Gaza Strip, which has steadily tightened since 2007, has had a disastrous impact on the humanitarian and economic situation in the coastal enclave.
Some 1.5 million Gazans are being denied their basic rights, including freedom of movement, and their rights to appropriate living conditions, work, health, and education. The poverty and unemployment rates stand at approximately 80 percent and 60 percent respectively in the Gaza Strip.