Syria
Tehran Conference: Participants Underscore Syrians' Right to Decide Own Fate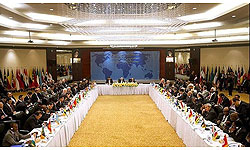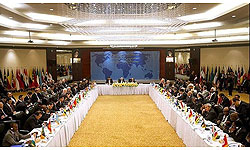 Participants in the 'Friends of Syria' conference in Tehran underlined the Syrian people's right to decide their own fate and the necessity to settle the crisis in the Muslim country politically, Iranian top diplomat Ali Akbar Salehi announced.
Salehi said that the participants called for political tactics as the sole solution to the Syrian crisis.
At the end of conference on Wednesday afternoon, Salehi said that participants from more than 40 countries and international, regional organizations called on conflicting sides in Syria to refrain from escalating the crisis and pave the ground for democratic solution in Syria.
He also said that in Tehran conference there was consensus on Syrian people right to determine their own fate.
He said that immediate stop of violence, concern about escalating crisis in Syria and spreading it to other countries of the region were other points that participants insisted on; they also called for establishment of stability and security in the region.
Salehi said that motto of Tehran conference was political and regional solution to Syria crisis, which has been Iran's principled stance concerning Syria crisis since the beginning.
About stances of international society on Syrian crisis, Salehi said that every day the number of countries which deal with the crisis in a new approach to settle it is increasing and even some big powers, which were undecided are now reaching the conclusion that there is no other solution except political one.
Syria has been experiencing unrest since March 2011 with organized attacks by well-armed gangs and terrorists against Syrian forces and civilians being reported across the country.
The US and its western and regional allies have long sought to topple Syrian President Bashar al-Assad and his ruling system. Media reports said that the Syrian rebels and terrorist groups have received significantly more and better weapons, a crime paid for by the Persian Gulf Arab states and coordinated by the United States.
The US daily, Washington Post, reported in May 2012 that the Syrian rebels and terrorist groups battling Assad's government have received significantly more and better weapons in recent weeks, a crime paid for by the Persian Gulf Arab states and coordinated by the United States.
The newspaper, quoting opposition activists and US and foreign officials, reported that Obama administration officials emphasized the administration has expanded contacts with opposition military forces to provide the Persian Gulf nations with assessments of rebel credibility and command-and-control infrastructure.
Opposition activists who several months ago said the rebels were running out of ammunition said last May that the flow of weapons – most bought on the black market in neighboring countries or from elements of the Syrian military in the past – has significantly increased after a decision by Saudi Arabia, Qatar and other Persian Gulf states to provide millions of dollars in funding each month.