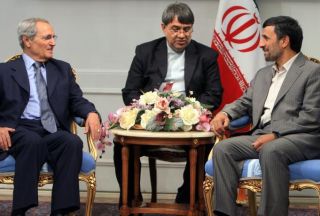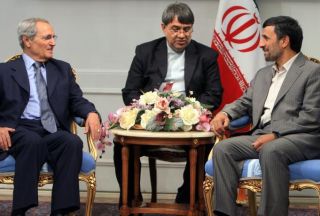 President Mahmoud Ahmadinejad says the Tehran declaration on a proposed nuclear fuel swap deal has created a new front against "arrogant" powers of the world.
"In fact, the Tehran declaration created a new front against the arrogant [powers] in the world and undoubtedly Iran and Syria will be the nucleus of the front," IRNA quoted Ahmadinejad as saying in a meeting with visiting Syrian Vice President Farouk al-Sharaa in Tehran on Tuesday.
Foreign ministers of Iran, Turkey, and Brazil signed the declaration in the Iranian capital on May 17, according to which Iran would ship 1200 kilograms of its low-enriched uranium to Turkey to be exchanged for 120 kilograms of 20 percent enriched nuclear fuel rods to power the Tehran research reactor, which produces radioisotopes for cancer treatment.
Ahmadinejad also noted that the unity between Iran and Syria has foiled all "plots" hatched by arrogant powers.
Al-Sharaa, for his part, highlighted the importance of "strategic" ties between Iran and Syria, saying that "the goals and plans that the two countries are pursuing will benefit the nations of the [Middle East] region and the world."
The Syrian vice president also condemned the "unjust" measures taken by the UN Security Council against Iran, including its latest sanctions resolution against the Islamic Republic.