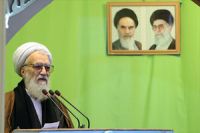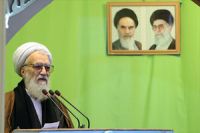 Tehran's interim Friday Prayer Leader, Ayatollah Mohammad Ali Movahedi Kermani, has underlined that the wide-scale turnout of Iranian nation in the presidential election is a source of immunity for the sacred Islamic system against the conspiracies and schemes hatched by the foes of Iran.
According to IRIB World Service, Tehran's interim Friday Prayer leader congratulated the birth anniversary of the First Infallible Successor to Prophet Mohammad (SAWA), Imam Ali (PBUH), while reiterating that the massive participation of the Iranian nation in June presidential poll is a major epic, which will insure the Islamic Revolution and the sacred Islamic system.
In further remarks, Ayatollah Movahedi Kermani said every Iranian, who loves Islamic Iran, should actively take part in the presidential vote, and should take steps within the framework of immunity of sacred Islamic establishment and maintenance of the ideals of the Islamic Revolution.
Tehran interim Friday Prayer leader went on to add that according to the remarks of the Leader of Islamic Revolution; the figure, who is elected to the presidential post should be pious, prudent, maintain strong managerial skills, be against Global Arrogance, should seek justice and lead a simple lifestyle; and should also make use of experts and competent figures in his domain of activities.
The Tehran interim Friday Prayer leader added that Iran's president should abide by the instructions and guidelines of the Leader of Islamic Revolution, Ayatollah Seyed Ali Khamenei, and should wholeheartedly serve the people of Iran. Ayatollah Movahedi Kermani also pointed out that a suitable and merited president should make every effort to materialize the demands of the Iranian nation and should not grant illogical concessions to a few meritless individuals.
Furthermore, Tehran's interim Friday Prayer leader commemorated the anniversary of liberation of the southwestern Iranian city of Khoramshahr from the occupation of former Iraqi regime's troops throughout the Iraqi imposed war, while underscoring the faith in God, patience, and perseverance of the Iranian people led to the victory and liberation of Khoramshahr.
Elsewhere, the Tehran interim Friday Prayer leader referred to the victories of the Syrian army and nation in driving out the foreign-backed terrorists, while adding that the resistance of the Syrian nation against the foes is currently bearing fruit.