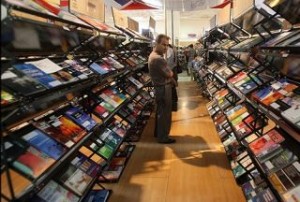 Iran has launched the 23rd Tehran International Book Fair (TIBF) with more than 2000 publishers from 80 countries in the world participating in the event.
The annual cultural event — believed to be the most prominent publishing event in Asia and the Middle East — was inaugurated in the presence of the country's First Vice President Mohammad Reza Rahimi on Tuesday and opened to public on Wednesday.
The exhibitors have put on show an estimated 200,000 books of which 170,000 are foreign titles.
Some 2,000 publishers — more than 1,100 local and 980 international — have participated in the 2010 TIBF, where foreign e-books and e-journals are also put up for sale.
Publishing companies from China, Spain, France, Greece, the US, South Korea, Malaysia, Iraq, Russia and other countries are offering their publications during the ten-day exhibition held at the Iranian capital's Mosalla.
The fair also features special sections, including the House of Literati that honors prominent Iranian cultural figures from a variety of disciplines.
The international event opens a great window of opportunity for the country's publication sector and book dealers.
The public may find further information about the event on the fair's official website at: www.tibf.ir.