Iran
Tehran's Friday prayer Sermons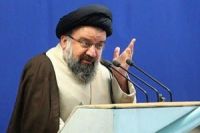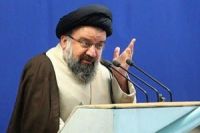 Tehran's Friday prayer leader, Ayatollah Seyed Ahmad Khatami has said that threats and pressures by the global arrogance and Zionism aimed at discouraging the Iranian nation are doomed to failure adding that the Iranian nation will continue to resist in order to attain its rights including the nuclear rights.
He underlined that nuclear talks serve as a US pretext for exerting more pressure on the Iranian nation. He said that the West should know that the Iranian nation will not retreat from its rights and will overcome the difficulties resulting from pressures and in this way the Iranian nation will give a decisive response to the enemies.
He also praised the massive public turnout in the rallies marking the 34th anniversary of the Islamic Revolution's victory describing it as unimaginable saying that even certain American officials have admitted to the glorious presence of the people in the rallies despite all the pressures and plots.
He underscored that the Iranian nation emphasizes the pivotal role of Velayat-Faqih in the Islamic establishment and perceives all issues from the viewpoint of the Leader of Islamic Revolution.
He underlined that the Iranian nation will once against prove its loyalty to the Islamic establishment by massively participating in the upcoming presidential elections.
Ayatollah Seyed Ahmad Khatami further touched upon the standpoint of the Islamic Republic of Iran concerning the developments in Bahrain saying that the Bahraini people must determine their own fate and this is their right to decide about the future of their country.
Concerning the developments in Syria, Ayatollah Khatami said that the US and its allies thought that they can topple the Syrian government by sending terrorists and weapons to Syria. But they have failed to do so and they have come to the conclusion that Iran's proposed solution is the best solution that is based on holding broad-based national dialogue.