Iran
Tehran's Friday Prayer Sermons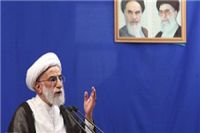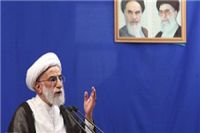 Today's Tehran Interim Friday Prayers Leader has warned the supporters of warmongering in Syria that any military attack on the country would be harmful for the perpetrators of the attack before it harms anybody else.
According to IRIB World Service, Ayatollah Ahmad Jannati in today's Friday prayer sermon pointed to the developments in Syria and the massacre of innocent civilians by foreign -backed extremist groups including Al-Qaeda said: "Any warmongering in Syria will get its perpetrators hurt, before it hurts the nation and government of Syria."
Ayatollah Jannati referred to the global opposition against any military action on Syria and emphasized on ending the Syria crisis through dialogue.
Pointing to the Sacred Defense Week in Iran and the start of the Iraqi imposed war on Iran during the rule of Saddam Hussein, the Ayatollah noted that the then Iraqi army supported by western governments attacked Iran while the Islamic Republic was newly established.
Referring to the Iranian nation's bravery and resistance during the Sacred Defense period, Ayatollah Jannati said the Iranian youth of the time, by voluntarily participating at the fronts, once again founded the culture of bravery and martyrdom and that the rule of this culture once again revived Islam.
Today's Tehran Interim Friday Prayers Leader pointed to the formation of Basij resistance forces and Islamic Revolutionary Guards Corps by late Imam Khomeini (May his soul rest in peace) at the wake of the Islamic Revolution in 1979 and said, the collection of these factors led to the failure of Baath enemy, without taking even an inch of Iran's soil.