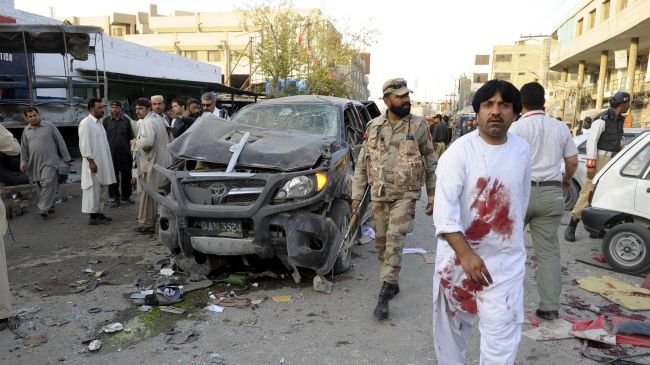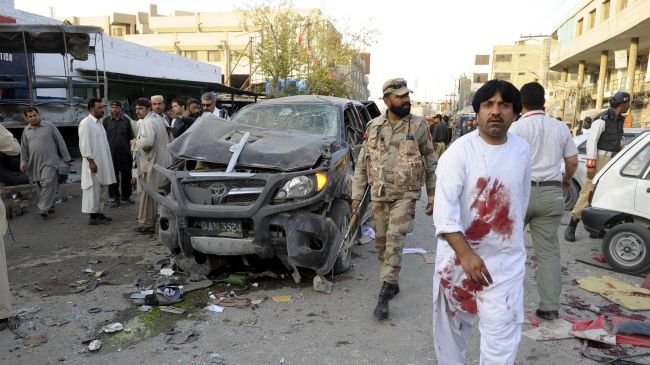 At least 10 people have been killed and dozens more wounded in bomb explosions that rocked four major cities across Pakistan, officials say.
In the deadliest attack, six people died in the southwestern province of Baluchistan when a bomb blast ripped through a crowded market area near a police station in the provincial capital of Quetta, police said.
Those killed in the explosion included a policeman. Dozens of others, among them women and children, were also wounded in the incident.
The blast was reportedly caused by a timed device, with six kilograms of explosives and ball bearings, mounted on a bicycle.
Earlier in the day, a blast at a restaurant killed one person and wounded 13 in Lahore, the capital of Punjab Province.
Three people were also killed in a blast in the southwestern city of Karachi, while a separate explosion wounded a police officer in Peshawar, the capital of Khyber Pakhtunkhwa Province.
Thursday's attacks come on the heels of remarks by Pakistan Taliban leader Hakimullah Mehsud, who said the door was open to peace talks but criticized Islamabad for failing to take serious steps to start a dialogue.
In a rare video interview, Mehsud – who has a USD 5 million US government bounty on his head – said he would continue to target the United States and its allies and insisted that any ceasefire in Pakistan must include an end to US drone strikes in the country.
Last month, Pakistan's main political parties threw their weight behind a government proposal to seek negotiations with Mehsud's Tehreek-e Taliban Pakistan group, who have been waging a bloody war against the state since 2007.
The militancy has taken the lives of thousands of people in Pakistan in recent years.