Syria
Tens of Militants Surrender to Syrian Army in Northwestern Damascus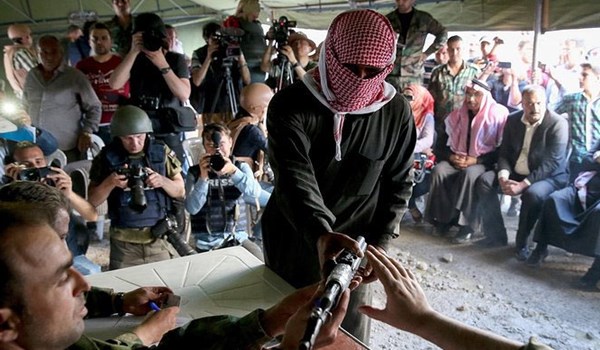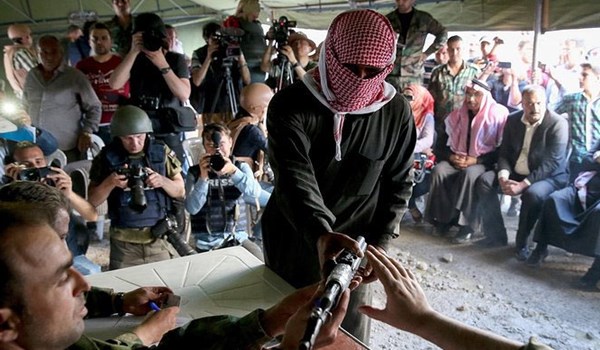 Tens of militants in Wadi al-Bardi region handed over their arms to the Syrian Army troops and received government amnesty on Wednesday.
At least 60 militants in the villages and towns of Wadi al-Bardi handed over their weapons to Damascus officials stationed in the entrance of the town of Deir Qanoun.
The militants had previously called for government pardoning, so the relevant officials granted them amnesty after seizing their arms.
The militants delivered their heavy weapons, including mortars and missiles to the army.
The army units managed to reopen a road that connects Wadi al-Bardi region to Deir Qanoun in line with the implementation of the peace agreement between militants and Damascus.
Damascus Governor General Ala Ibrahim said on Tuesday that over 40 buses evacuated over 2,000 militants and their family members from Wadi al-Bardi region in Western Ghouta.
Ibrahim said that over 2,150 militants and their family members left Wadi al-Bardi region for militant-held regions in Idlib, adding those militants that had applied for government pardoning received amnesty.
He went on to say that simultaneous with the evacuation of militants, water facilities in the village of Ein al-Fijeh were fixed and drinking water was pumped to citizens in Damascus.
Meantime, the Arabic language Elam al-Harbi news website reported that evacuation operation of the militants from Wadi al-Bardi was terminated and evacuation of 200 more militants in al-Jaroud region and also another 250 in Sarqaya region was delayed due to snowy weather; "but they would leave their regions for Idlib in next few days".