Middle East
Syria
Tens of Terrorists Killed in Foiled Attempt to Reopen Vital Road in Hama
Tens of terrorists have been killed and wounded in foiled attack on Syrian Army positions to regain back the areas that they have lost recently, the Arabic-language media sources said.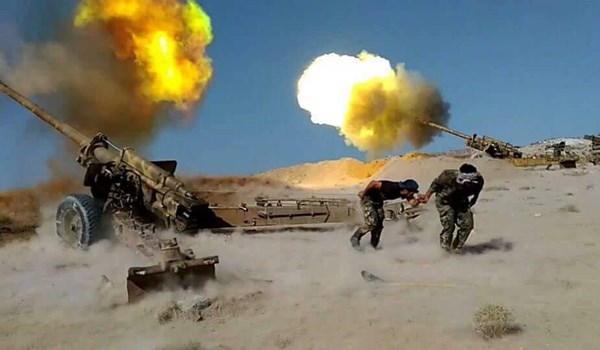 Large groups of elite militants of Tahrir al-Sham al-Hay'at (the Levant Liberation Board or the Al-Nusra Front) attacked the Syrian Army's military positions to retake control of the regions that they have lost in Northwestern Hama in Tal Osman and al-Asar axes, the Arabic-language version of the Russian Sputnik news agency quoted a military source as saying.
The source pointed to fierce clashes and dispatch of militants and military equipment to battlefronts, and said that at least 70 militants were killed and injured in airstrikes by the Russian and Syrian bombers.
Meantime, another military source said that the Syrian Army took control of the strategic Osman Hill (Tal Osman) and its surrounding areas, and managed to cut the vital line of movement connecting two main bases of the terrorists in Qala al-Maziq and Kafr Naboudeh.
He pointed to the recent advances by the Syrian Army towards borders with Idlib, and said that the Syrian Army intends to cut the terrorists' lines connecting Idlib and Lattakia by taking full control of the strategic Kobani region in Northern Lattakia.
In a relevant development earlier this month, the terrorists stationed in Hama, launched tens of rocket attacks on residential areas in the town of al-Saqilbieh and the village of al-Khandaq in Sahl al-Ghab in Western Hama, killing and injuring several people.
In response to the terrorists' attacks, the Syrian Army's artillery and missile units heavily pounded the terrorists' military positions in the town of al-Sahrieh in Shahshabou in Northern Hama, destroying their military positions and hideouts as well as killing and injuring a number of them.
The Arabic-language al-Watan newspaper, meantime, reported that the Syrian and Russian air forces launched heavy attacks on terrorists' military positions and movements in al-Maziq Qala and al-Havash in Western Hama and around al-Bashireh village in Jisr al-Shoghour in Western Idlib which resulted in the destruction of several key targets, including an arms and military equipment depot.
In Western Aleppo, the Syrian Army troops engaged in heavy clashes with Tahrir al-Sham al-Hay'at terrorists who were trying to penetrate into the army's military points from Family House axis, killing a large number of militants and destroying their military vehicles while making the remaining terrorists retreat from the battle scene.