Iraq
Tens of thousands of Iraqis surrounded by ISIL: UN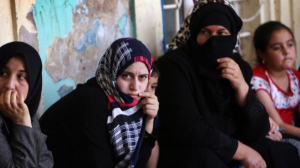 The United Nations (UN) says that tens of thousands of Iraqis who have been forced to flee ISIL terror in the northern town of Sinjar are currently surrounded by the members of the terrorist group.
According to the UN Office for the Coordination of Humanitarian Affairs (OCHA), reports suggest "some 35-50,000 people displaced in nine locations" are currently "surrounded" by ISIL members.
About 30,000 people, mostly women and children, have reportedly fled to Dahuk governorate in the autonomous Kurdistan region. More are expected to enter the city in the coming days.
The OCHA added that children are also dying from a lack of water and other "assistance among those trapped," as there is an immediate need for water, food, fuel, shelter and health services."
Earlier reports by the United Nations indicated that 200,000 people were forced to escape Sinjar, a town with an estimated population of 310,000.
The UN says that many of Sinjir's residents have fled to Sinjir mountain or Jebel Sinjir.
On August 3, the UN said a "humanitarian tragedy" was unfolding in Sinjir. The town had sheltered thousands of people displaced by the ISIL violence, which came to the region nearly two months ago.
Violence erupted in Iraq when Takfiri ISIL militants took control of Mosul on June 10, which was followed by the takeover of Tikrit, located 140 kilometers (87 miles) northwest of the capital, Baghdad.
The Iraqi army, backed by tribal forces and volunteers, has been engaged in heavy fighting with the militants on different fronts and has so far been able to push back the militants in several areas.