Iraq
Middle East
Tensions High in Baghdad after Sayyed Al-Sadr Quits Iraqi Politics
Residents of Baghdad woke up on Tuesday to the sounds of intermittent gunfire and explosions after a night of clashes between security forces and supporters of cleric Sayyed Muqtada Al-Sadr.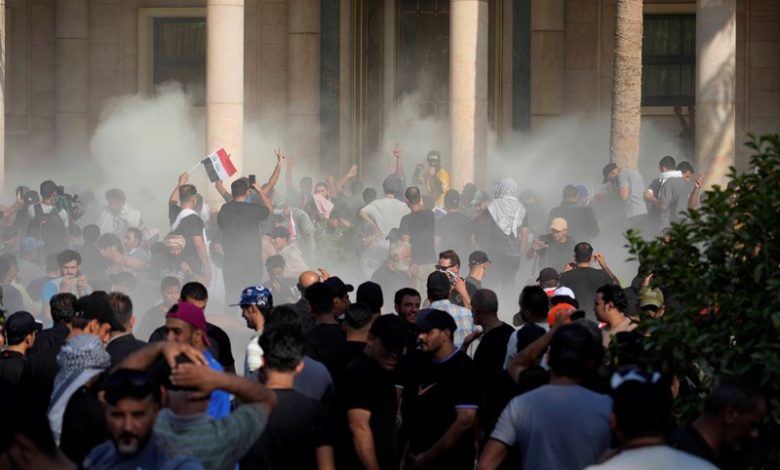 Clashes erupted between security forces and Al-Sadr supporters in Baghdad's Green Zone despite curfew imposed in the capital.
Dozens of protesters and a security servicemen were killed or injured in the clashes on Monday, Iraqi media reported.
Iraq's cabinet has shut down government offices due to the ongoing curfew, Iraqi News Agency (INA) reported.
Prime Minister Mustafa Al-Kadhimi "directed that official working hours are off" on Tuesday, the agency said, citing a statement from the cabinet.
The agency reported that Al-KadhimI has ordered an "urgent investigation" into Monday's events and stressed that the use of live ammunition by security forces against protesters is "strictly prohibited".
The PM also called on citizens to "abide by the security instructions and the curfew decision", according to INA.
For his part, the head of the Fatah Alliance in Iraq, Hadi Al-Ameri, called for de-escalation and urged the Iraqi people to stop using violence and use dialogue as a path toward a solution.
Meanwhile, Al-Sadr is said to be staging a hunger strike "until the violence came to an end."
Al-Sadr "has announced a hunger strike, until the violence and the use of weapons stop," INA said, citing a tweet by the head of the resigned Sadrist bloc, Hassan al-Athari.
On the other hand, Iran closed land border crossings with Iraq, cancelled all flights and advised Iranian citizens to avoid travelling to the country amid the violence.
Several countries others issued travel warning to its citizens like Kuwait, Turkey and UAE.