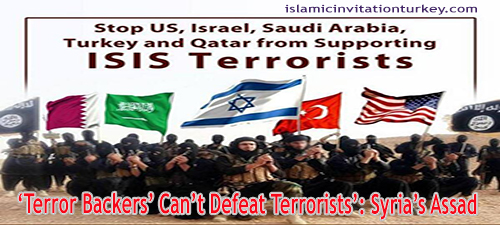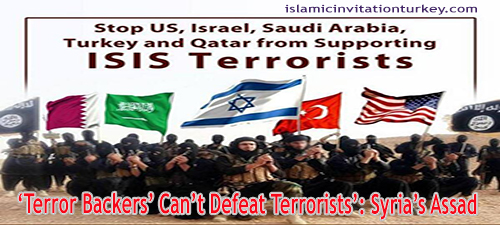 Extremists cannot be defeated by countries that have "spread terrorism", Syria's President Bashar al-Assad said.
Speaking during a meeting with Ali Shamkhani, secretary of Iran's Supreme National Security Council and senior Iranian officials in Damascus, the Syrian president said:"Fighting terrorism can never be done by those countries that helped create terrorist groups, giving them logistical and financial help and spreading terrorism around the world," SANA quoted.
Today Syrian President Bashar al-Assad met with Ali Shamkhani Iranian secretary of the Supreme National Security Council who arrived in Syria earlier Tuesday.
The comments target the United States and other members of the coalition now carrying out air strikes against the IS group on Syrian territory and in Iraq.
Damascus has long accused Washington and Arab nations that back the Syrian unrest and supporting terrorism by their support for the Syrian armed opposition groups.
Assad and Shamkhani warned that the United States was approaching the issue of defeating extremists with "covert agendas that do not serve the people of the region."
Syria insisting any action of foreigners against ISIL in Syria should be coordinated with its government.