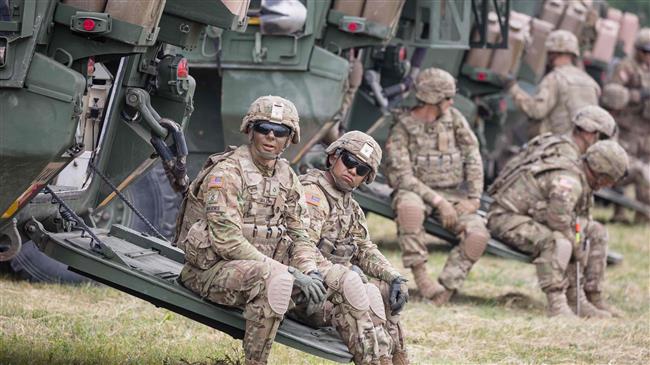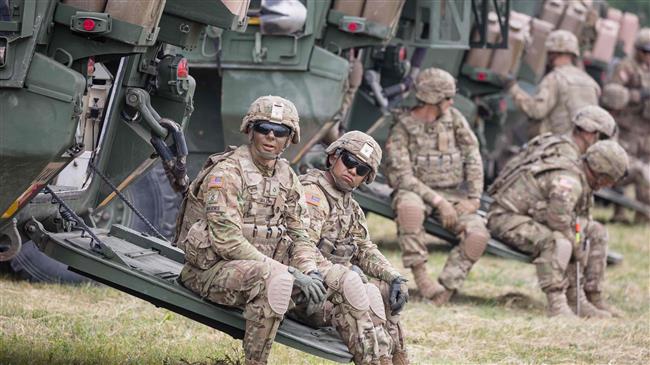 Israel will for the first time take part in US-led NATO military exercises that kicked off in the alliance's eastern flank near Russia, amid tensions between Moscow and Tel Aviv over Syria.
Israel's Haaretz newspaper reported on Monday that several dozen Israeli paratroopers were being dispatched to Eastern Europe to take part in the Saber Strike for the first time.
The unprecedented move follows Moscow's condemnation of Israeli airstrikes in Syria, amid a relentless fight to recapture remaining territories still under the control of foreign-backed Takfiri terrorists and other militants.
NATO officials marked the beginning of the Saber Strike maneuvers in a ceremony in the Lithuanian capital Vilnius on Sunday. Some 19 countries, mostly from NATO, have stationed around 18,000 troops in Poland and three Baltic states of Estonia, Latvia, Lithuania.
The US Army Europe said Sunday the Saber Strike 18 drill is spread around the region until June 15 as "a demonstration of the commitment and solidarity of the Alliance" at a time when Russia's military maneuvers are "increasingly worrying."
NATO member states, largely made up of Western European countries, have significantly increased their military activities near Russia's western borders in recent years.
NATO's secretary-general says the alliance would not come to Israel's defense in case of any attack by Iran.
Russia, realizing the security threat under its nose, has held several military drills to maintain preparedness. NATO countries have pointed to those drills as a sign that Russia has aggressive intentions.
According to Haaretz, Saber Strike, which was one huge exercise up until now, has been split into two different scenarios this year.
One scenario is a large exercise of 18,000 fighters from many nations, while the second, in which Israel will also participate, will have a more limited number of troops, the Israeli daily added.
Israel's participation in the NATO drills comes after Tel Aviv hit military positions in Syria, sparking condemnation from Russia.
Israel has frequently attacked military targets inside Syria in what is widely viewed as an attempt to prop up the terrorist groups that have been suffering heavy defeats at the hands of Syrian soldiers.
There has been a spike in Israeli strikes since the collapse late last year of the Daesh terror group – something that significantly demoralized the other Takfiri militant groups operating against Damascus.
Israel has also been providing weapons to anti-Damascus militants as well as medical treatment to Takfiri elements wounded in Syria.
On Saturday, Iran's top security official Ali Shamkhani was quoted as saying that Tehran supports Russia's bid to clear the Syrian border near the occupied Golan Heights of militants.
"This move is a positive step for further control of the Syrian government on its territories occupied by terrorist groups," he said.
The territory's return to the Syrian government control would cut the much-reported collaboration between Israel and militants and deal a blow to Tel Aviv's plans to annex the Golan Heights.