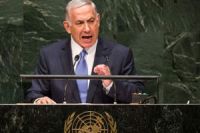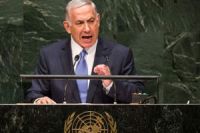 Zionist regime's Prime Minister Benjamin Netanyahu has reiterated Tel Aviv's war-mongering position on the Islamic Republic, calling Iran a greater "threat" than the ISIL Takfiri terrorists.
According to Press TV, Netanyahu stepped up the regime's belligerent rhetoric against Iran during his speech at the 69th annual session of the UN General Assembly in New York on Monday.
Bibi's comments are reminiscent of the fact that the ISIL terrorists have never launched an attack against the Israeli regime's interests although they commit atrocities against all communities in the region.
Also, Tel Aviv has never confronted the terrorists since they took control in the nearby Syria and Iraq.
The Zionist regime's premier claimed that "ISIL must be defeated… But to defeat ISIS and leave Iran as a threshold nuclear state power is to win the battle and lose the war."
Netanyahu also reacted to nuclear talks between Iran and the 5+1 group, claiming an agreement between the two sides "would pose the gravest threat to us all."