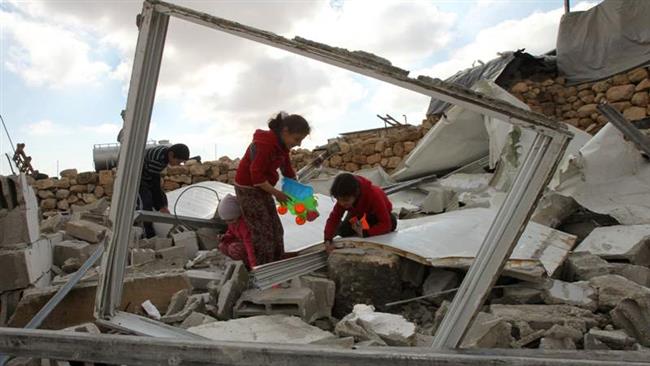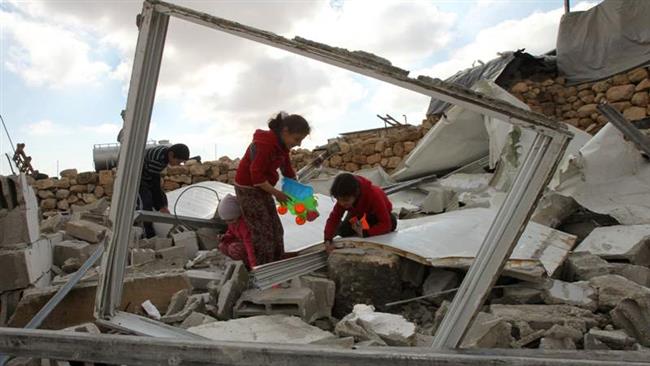 Rabid-dog Israeli forces have destroyed over 10 Palestinian houses and residential structures in the village of Khirbet Tana, located in the northern part of the occupied West Bank.
Ghassan Daghlas, a Palestinian Authority (PA) official who monitors the Israeli regime's settlement activity, said that Israeli bulldozers demolished the houses and structures on Tuesday, with Israeli officials claiming that they had been built illegally in an area declared by Tel Aviv as a "firing zone" for military training.
An Israeli military spokesman said that "enforcement steps were taken against five buildings and six tents which were built illegally without permits."
Some 20 percent of the West Bank has been designated by the Zionist israeli regime as firing zones, where Palestinians face serious restrictions on their freedom of movement and access to basic needs, and are also subject to settler violence and harassment by soldiers.
Khirbet Tana is home to some 300 Palestinians, belonging to a herding community that have lived in the village for decades.
Rights groups say the demolition of Palestinian homes are in line with Israel's policy of expansion of settlements and land theft.
More than half a million Israelis live in over 230 illegal settlements built since the 1967 Israeli occupation of the Palestinian territories of the West Bank and East Jerusalem (al-Quds). The United Nations and most countries regard the Israeli settlements as unlawful.
The presence and continued expansion of Israeli settlements in occupied Palestine has created a major obstacle for the efforts to establish peace in the Middle East. The PA wants the West Bank as part of a future independent Palestinians state, with East al-Quds as its capital.