Iran
Middle East
North America
Terrorist Trump calls Iranians, Muslims 'a terrorist nation'
US President Donald Trump has repeated his anti-Iran threats, claiming that "there's always a chance" of war with the Islamic Republic.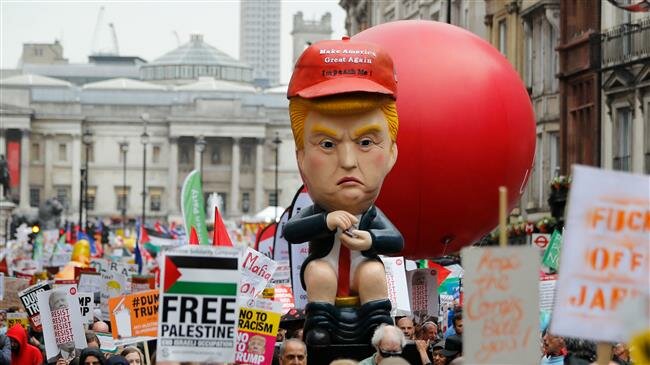 Trump made the comments in an interview by Good Morning Britain presenter Piers Morgan amid his visit to the UK on Wednesday.
"So Iran is a place that was extremely hostile when I first came into office. They were in 14 different sites between Yemen and Syria and many other battle zones. They were behind terrorism in many different places. They were a terrorist nation, number one in the world at that time and probably maybe are today. And they were a funder of terrorism," claimed the US president.
Watch Britons marching against Trump's UK visitDemonstrators protest on Trafalgar Square, in central London, and march against the visit of US President Donald Trump.
Tehran has time and again asserted that it does not seek war, yet stands ready to defend its interests in the region in the face of US aggression.
Trump further slammed former President Barack Obama for his role in the negotiations that yielded the multinational nuclear deal, known as the Joint Comprehensive Plan of action.
"President Obama made a deal, the Iran nuclear deal which was a terrible deal because it was a short term deal. Didn't do the trick. Paid 150 billion dollars, paid 1.8 billion in cash – if you can believe it, in cash," he claimed.
War and talks don't go together: Iran's ZarifIran's Foreign Minister Zarif says war and talks — with or without preconditions — will never go together.


Trump also took credit for his withdrawal from the JCPOA, claiming that as a result of the pullout "Iran is a much different country today."
"And I was very much against that, I was very much against the deal so I terminated the deal and Iran is a much different country today," the US president claimed.
Outgoing British Prime Minister Theresa May said Tuesday that the UK would "stand by the nuclear deal" unlike Washington, despite its "special relationship" with the US.
'JCPOA implementation only viable way to ease tensions'China says ensuring the complete and effective implementation of the JCPOA is the only viable way to ease tensions.
Trump made the comments amid the US heightening of tensions with Iran in the Middle East.
After pulling the US out of the JCPOA, the US president re-imposed illegal sanctions, stepped up his anti-Iran rhetoric along with an American military buildup in the Persian Gulf.