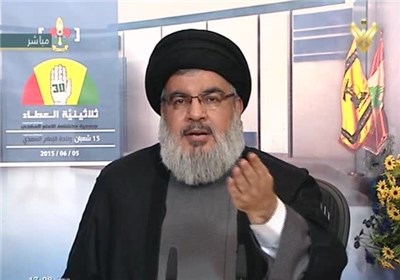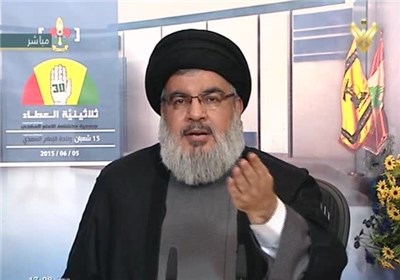 Secretary General of the Lebanese Hezbollah Resistance Movement said that the movement's fighters will soon put an end to the presence of Takfiri terrorists near Lebanon's borders.
Terrorists have a filthy presence near Lebanese borders, but Hezbollah is determined not to let any of them approach the borders or surrounding areas, Seyed Hassan Nasrallah said on Wednesday.
He made the remarks in an address to the second Conference of Renovation and Intellectual Jurisprudence of Imam Khamenei.
Nasrallah further referred to the recent "great" achievements of Hezbollah fighters in Arsal and Qalamoun areas, and stressed, "I assure you that their defeat is imminent and it just needs time."
He went on to say that Hezbollah has a serious will in its fight against the Islamic State in Iraq and the Levant (ISIL) terrorist group, and victory is for those who are determined.
The Syrian army, backed by fighters from the Lebanese resistance movement Hezbollah, has been making significant gains against Takfiri terrorists operating in the Lebanese-Syrian border region of Qalamoun.
The joint forces of the Syrian army, Syria's National Defense forces and Hezbollah fighters have tightened the noose around the al-Qaeda-linked terrorist group al-Nusra Front near the Syrian town of Flitah in Qalamoun, which straddles the border between Syria and Lebanon.
The joint forces managed to retake control of a number of hilltops overlooking the border, inflicting heavy losses on the terrorists in the region.
The gains in Qalamoun coincide with victories by Hezbollah against terrorists south and north of the town of Arsal. Over the past days, Hezbollah has taken control of some major hilltops and positions in the area from Takfiri terrorists.