Syria
Terrorists Launch Massive Attacks on Syrian Army in Violation of Truce
The terrorist groups launched massive offensives on the Syrian Army's military positions in the battlefronts against the government forces in the battlefronts in Northwestern Syria despite implementation of ceasefire there, media reports said.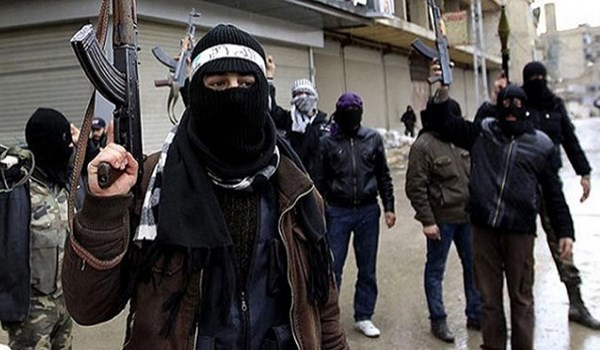 The Arabic-language Al-Watan newspaper quoted a Syrian Army's military source as saying that the terrorist groups pounded the surrounding areas of the town of al-Hamamilat with rockets and mortars from several towns and villages in Northwestern Hama.
The source noted that the Syrian army's artillery and missile units also pounded the terrorists' military positions in al-Hawiz, Karkat, Kafar Zita, al-Jabin, Jeb Suleiman, al-Hawija, Tal al-Sokhr and al-Zuka in Northern Hama, destroying several of their military positions and hideouts.
It, meantime, said that the so-called 'Elite Forces' affiliated to Ankara-backed Jbahat al-Shamia have been sent to the battlefronts in Northwestern Hama.
Meantime, the terrorist groups pounded ten settlements in Lattakia, Hama and Idlib with artillery units despite the unilateral ceasefire declared by the Syrian army.
Meantime, Chief of the Russian Center for Reconciliation of the Opposing Parties in Syria Viktor Kupchishin said two Syrian servicemen were killed and seven more were wounded in the terrorists' attacks.
In a relevant development on Sunday, media reports said that the terrorist groups have launched a new wave of massive attacks on Syrian Army's military positions in Hama and Idlib to show their opposition to a request by Turkey from Syria to implement its commitments of the Sochi Agreement.
The Arabic-language version of the Russian Sputnik news agency quoted informed sources in the Syrian Army as saying that the recent truce in Hama and Idlib has been enforced after the Turkish government with Russia's mediation asked the Syrian government to give the latest deadline to Ankara to implement its commitments under Sochi agreement and reopen the Aleppo-Hama-Lattakia international highway.
Meantime, the local sources in Idlib province said that several terrorist commanders decided to reject the ceasefire after holding a meeting and the spokesman for Ankara-backed National Liberation Front (NFL) terrorist group Naji al-Mostafa confirmed that the terrorist groups have rejected the call for truce in Northern Syria.
Meantime, the terrorist groups launched rocket and mortar attacks on Jabaleh region in Lattakia and Russia's Humeimem base and al-Zalaqiat in Northern Hama.
The Syrian Army units also thwarted massive attacks by Tahrir al-Sham terrorists towards military points in Abu al-Dhohour in Southeastern Idlib and Jabal Shahshabou in Northwestern Hama, inflicting heavy losses on them.