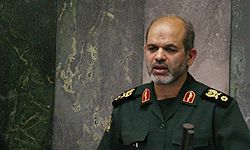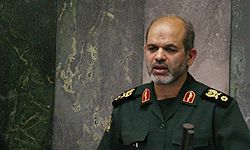 The Sunday morning suicide attack on a number of the Islamic Revolution Guards Corps (IRGC) commanders who aimed to reinvigorate regional security shows that terrorists are fearful of unity and solidarity between the Iranian people and officials, the Iranian Defense Minister said.
"Targeting a meeting which was held to consolidate unity and boost regional security and tranquility with Sistan and Balouchestan tribal leaders in attendance shows that anti-revolutionary elements and their supporters are fearful of solidarity and unity among the local people, officials and the armed forces," Brigadier General Hassan Vahidi said in a message released on Sunday on the occasion of the martyrdom of a number of senior IRGC commanders in a suicide attack in southeastern Iran this morning.
The IRGC commanders had traveled to the southeastern province of Sistan and Balouchestan to provide the ground for the "Shiite-Sunni Tribes' Solidarity Conference"
At least 29 people, including Lieutenant Commander of the Islamic Revolution Guards Corps (IRGC) Ground Force Brigadier General Nourali Shoushtari, Sistan and Balouchestan province's IRGC commander General Mohammadzadeh, Iranshahr Corps commander, Sarbaz Corps commander and Amiralmo'menin Brigade commander are among the martyrs.
In another part of his message, Vahidi underscored that the terrorists would never attain their ill-fated goals, "rather this terrorist measure would strengthen the resolve of the Iranian people and officials to accelerate their plans and measures for providing security, tranquility and development".
He also expressed his condolences to Supreme Leader of the Islamic Revolution Imam Seyed Ali Khamenei, IRGC commanders, Armed Forces, Iranian nation and the bereaved families of the victims over the martyrdom of the commanders and people in the attack.