Syria
Terrorists turn on each other as moderates clash with extremist groups in Azaz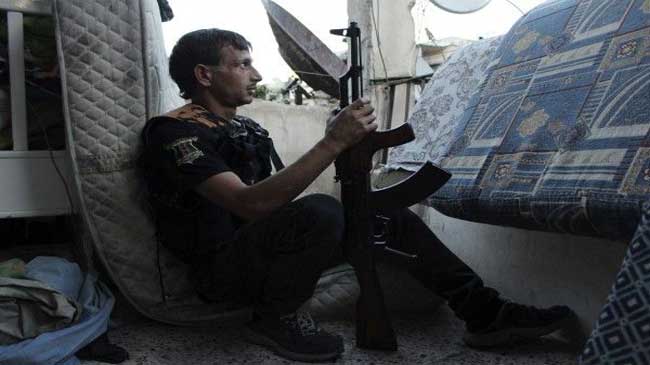 Clash between FSA and Al-Qaeda leave 490 terrorists dead, 745 wounded in Azez
According to the Akhbaria source terrorists in Azez region(10 km to Turkey) FSA terrorists and Al- Qaeda terrorists clashed and 490 terrorists got killed and 745 terrorists wounded in this clash. It is said that the region is under control of Al- Qaeda now.
Terrorists have turned their guns on each other in the border city of Azaz, as fault lines between moderate Western-backed rebels and extremist groups descends into open conflict.
Heavy clashes were reported in and around the city between the Free Syrian Army (FSA) and fighters with the Islamic State of Iraq and the Levant (ISIS) – an off-shoot of al-Qai'da.
The clashes reportedly began this afternoon when ISIS fighters tried to abduct a German doctor, who was volunteering at a hospital in the city on behalf of the aid group Medecins Sans Frontiers. Fighters with the Northern Storm Brigade – an FSA unit – were guarding the hospital at the time and tried to protect the doctor, leading to gun battles broke that left several dead.
"They accused [the doctor] of being a spy," an opposition activist told The Independent.
Azaz, on the northern border with Turkey, is a vital supply point for the rebels, who hold vast swathes of territory across northern Syria. The Bab al-Salamah border crossing just outside the town is one of few crossings with Turkey that is still operating.
ISIS fighters – often better equipped than the moderate rebel groups due to a healthy supply of weapons from the Gulf – were said to be in control of large parts of Azaz by nightfall, and were guarding all entrances to the city. There were reports that the group had sent 600 reinforcements from the city of Raqqa to join the fight.
By late evening, Free Syrian Army fighters were still in control of the Bab al-Salamah crossing on the Turkish border.
"It's a mess," a local commander said. "We have been unable to get in to the city."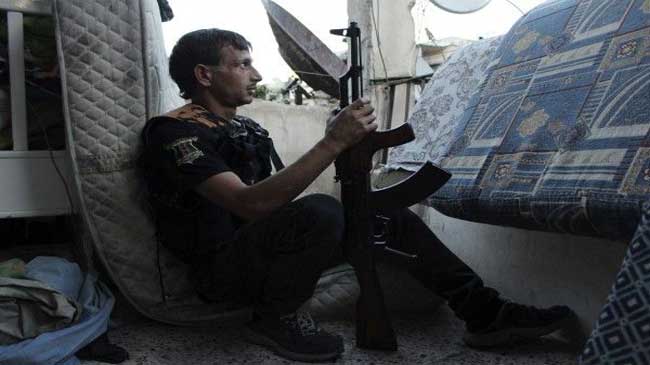 Tension between the different rebel groups in Syria has been escalating in recent weeks. Among the rebels fighting to remove Bashar al-Assad from power are a vast array of different and competing factions with contrasting ideologies.
The moderate Free Syrian army, headed by General Salim Idriss, has consistently sought the support of the West in their bid to topple Assad. ISIS, together with a handful of other extremist Islamist groups, reject any Western involvement in Syria, and consider the West as much of an enemy as the Syrian government.
Although there have been small-scale clashes between various rebel groups in the past, the fighting in Azaz appears to be a marked conflagration of tensions between the rebels.