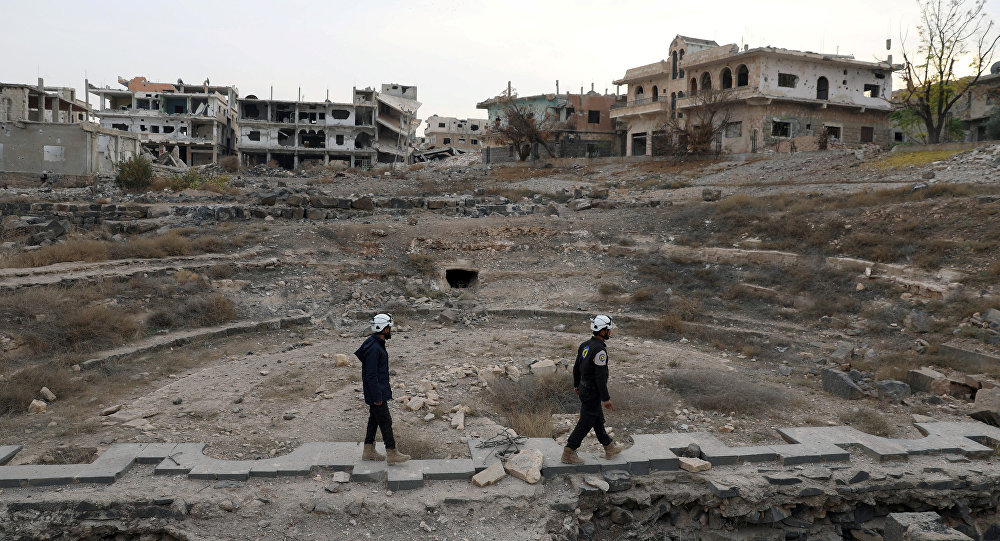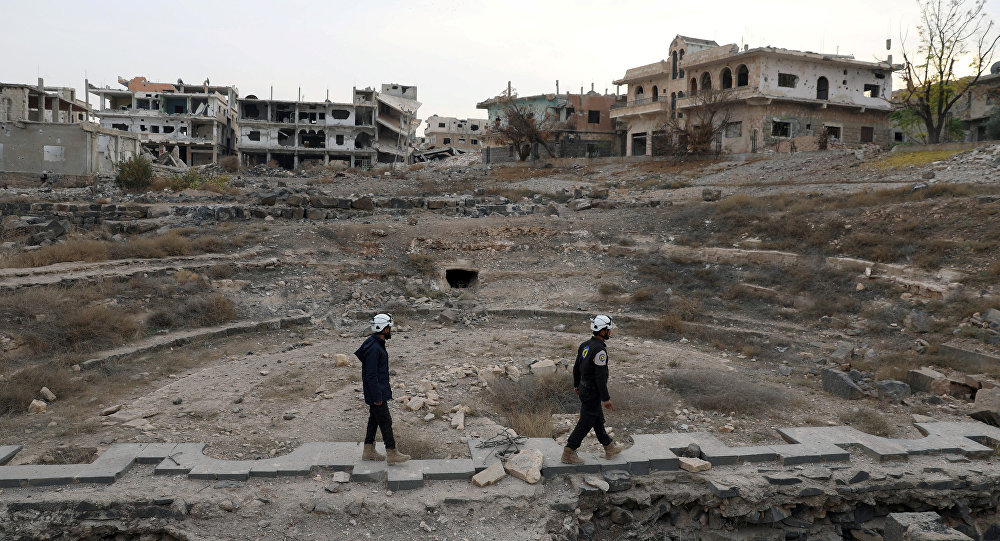 Terrorists and the White Helmets group have transported poisonous materials from the city of Jisr al-Shughur to the settlement of Khirbat al Amud, both located in the rebel-held province of Idlib, media reported on Thursday.
Sputnik news agency quoted Lebanon's Al-Mayadeen television as saying, it is unclear what kind of poisonous substance had been relocated.
In late September, Russian Deputy Foreign Minister Sergey Vershinin said that militants as well as White Helmets continued their preparations for plotting chemical attacks to discredit the Syrian government's troops. Both Damascus and Moscow blamed militants and White Helmets for staging several provocations involving chemical weapons to influence public opinion and justify foreign intervention in Syria.
The Russian Center for Syrian reconciliation reported earlier that Daesh terrorists had attacked Nusra Front militants in the Syrian settlement of Ltamenah, killing two White Helmets operatives and seizing two canisters with chlorine.
"On the evening of October 9, an armed group affiliated with the IS attacked the headquarters of a Nusra Front unit near the village of Ltamenah. Four militants and two employees of the White Helmets organization were killed in the skirmish. Two chlorine canisters were taken from the headquarters,' the center said in a statement.
According to the statement, the seized chlorine canisters were later transported to the south of Aleppo province and handed over to terrorists of the Daesh-linked Hurras al-Din group.
Syrian Foreign Minister Walid Muallem has slammed the White Helmets as the main tool for staging chemical attacks, adding that this was a terrorist organization created with the financial aid of the UK intelligence.
Meanwhile, Syrian Defense Minister Ali Abdullah Ayoub told the members of the People's Council, the country's parliament, on Thursday that Damascus would regain control over the country's northwestern province of Idlib.
'It [Idlib] is one of the four de-escalation zones. The Syrian government has already regained control over three others. We will liberate all parts of Syria. This means that our Armed Forces are ready to fulfill their obligations when the situation… comes to a deadlock, and they will ensure that every single region is controlled by the government,' Ayoub told Syrian lawmakers.